Over 50% of Catalonia's residents are fully vaccinated
Half of population inoculated after 6 and a half month rollout, while 60% have at least one dose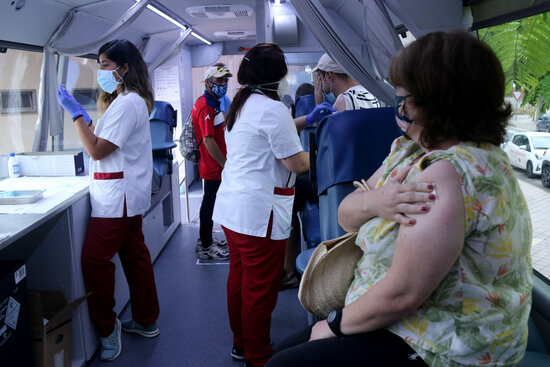 Over half of Catalonia's residents are already fully vaccinated against Covid-19.
According to the latest official data published on Saturday morning, 50.8% of the population are completely inoculated, meaning that either they have had both doses of the vaccine, got the single-dose Janssen jab, or had only one dose after having the disease.
Indeed, as of July 16, 2021, 4,748,888 residents have been given the first dose of the vaccine, 60.3% of the total population. Out of those, 3,564,613 have also been administered a second dose (45.4% of the total population). 3,989,389 residents are considered to be fully immunized (50.8%). Under 65s who have already had the virus are only required to have the first dose, and others have received a single-dose jab. Therefore, the % of two doses administered and % fully immunized do not match.
The rollout began on December 27, 2020, around six and a half months ago, and it picked up pace from late March.
Last week marked the record number of inoculations of all-time, with 702,961, just slightly more than the previous one, at 702,067 – 1.4 million in only a fortnight.
Catalan authorities have recently reminded that they are administering as many vaccines as they receive them, and have already warned that this week the number of shots will be lower.
This milestone arrives despite the fact that Catalonia is undergoing the fifth wave of the pandemic, less deadly than the previous ones, precisely due to the vaccines, but with a much higher number of transmissions compared to the other four peaks.