European Medicines Agency begins rolling review of Hipra Covid vaccine
Regulator says preliminary data suggests Catalan pharmaceutical's vaccine is "effective" against the virus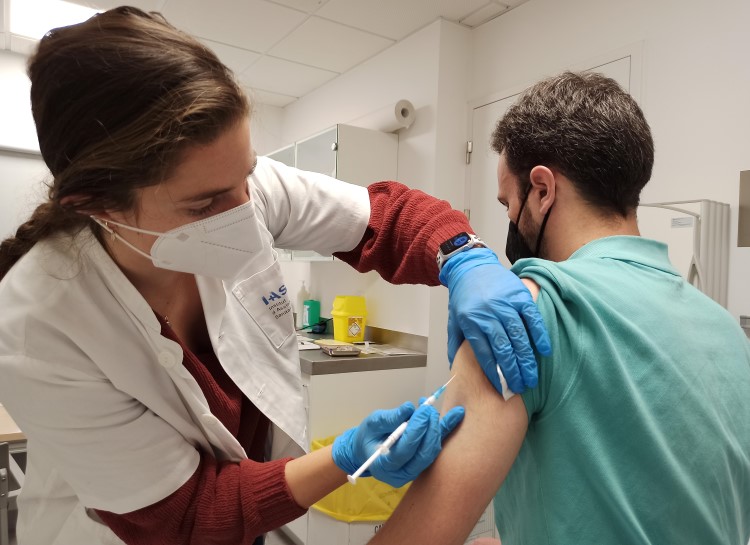 The European Medicines Agency (EMA) has started a rolling review of the Hipra Covid-19 vaccine, made by the Catalan pharmaceutical corporation of the same name.
In a statement on Tuesday, the European regulator said that the decision to begin the rolling review was based on preliminary results from laboratory studies and clinical studies in adults, which suggest that the vaccine is "effective" against the virus, including variants of concern such as Omicron.
"EMA will evaluate data as they become available to decide if the benefits outweigh the risks," the regulator said, adding that could not yet confirm when it will make a decision on granting the vaccine authorization.
The Hipra vaccine is intended to be to be given as a booster dose. It contains "two versions of part of the spike protein," one for the alpha variant and one for the beta. The two combine to form a single structure called a dimer, and the vaccine also contains a substance to help strengthen the immune responses to the vaccine, called an adjuvant.
This combination is able to generate a response against one of the SARS-CoV-2 proteins, the S protein.
This method is similar to that used for the Novavax vaccine, authorized by the EMA in December.
Earlier this month, the preliminary results of the first phase of a clinical trial involving 700 people in ten hospitals showed the Hipra vaccine generates more antibodies than other vaccines already approved, such as Pfizer's.
Possible benefits of Hipra jab
Unlike other Covid-19 vaccines that are being administered throughout the EU, the Hipra jab is based on a recombinant protein, like certain flu shots, which simulates part of the virus and generates an immune response that protects against future infections or severe illness.
Furthermore, the vaccine only needs to be stored at 2ºC to 8ºC, making it easier to transport than the Pfizer and Moderna mRNA vaccines that must be frozen at much lower temperatures.
According to Dr. Rafel Ramos, a biomedical at Girona's Doctor Josep Trueta hospital, recombinant protein may be "a bit easier to adapt to possible future variants."
With new variants and other potential biological threats in mind, researchers stress the importance of continually developing new vaccines, especially as certain segments of the population remain unvaccinated and booster shots may be needed.