Catalonia enters highest EU Covid-19 risk category
Travel to dark red regions is "strongly discouraged"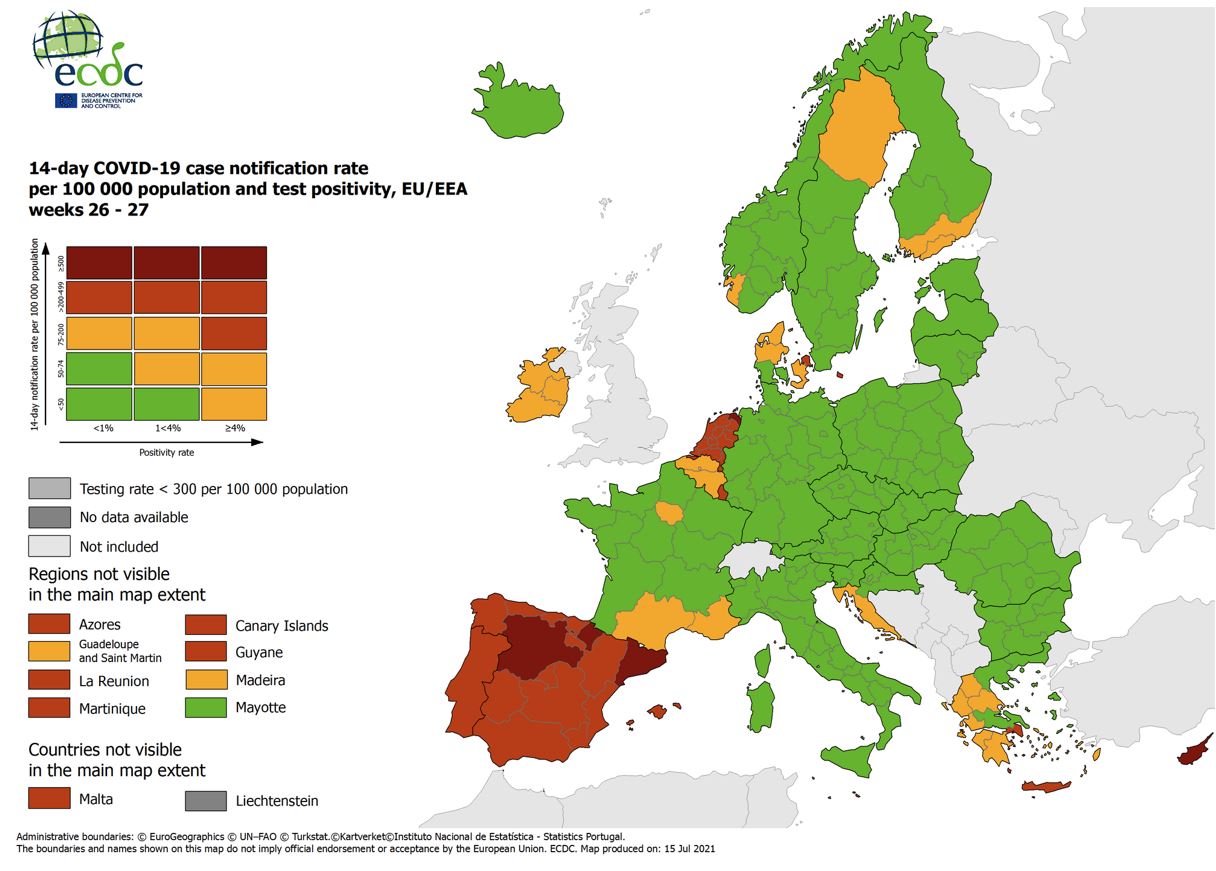 Catalonia is now dark red on the European Union Covid-19 map, the European Centre for Disease Prevention and Control's highest risk category, with a 14-day cumulative Covid-19 case notification rate of 500 or more per 100,000 inhabitants.
For Catalonia, this figure currently stands at 722.85, meaning Cyprus is the only place in the EU with a higher infection rate: 1,126.68. They are joined only by Spain's Castile and León (664.85) and Navarre (552.92) as well as the Dutch province of Groningen (562.76).
The European Union calls on member states to "strongly discourage all non-essential travel to and from 'dark red' and discourage all such travel to and from 'red' areas."

Catalonia first entered the red category two weeks ago, with 150 cases or more for every 100,000 residents, before turning dark red on July 15.
Of the top ten areas in the EU with the highest number of Covid-19 infections, six are in Spain, although Cantabria (492.97), Asturias (445.87), and Aragon (420.12) are not yet dark red. The remaining two regions are in the Netherlands: Utrecht (460.65) and Noord-Holland (457.12).
Skyrocketing cases
Covid-19 cases have increased drastically in Catalonia in the past few weeks, largely due to the spread of the Delta variant among younger, still unvaccinated segments of the population.
As of July 14, 2021, official figures, released daily on this website, state that there have been 809,095 Covid-19 cases confirmed by PCRs and others types of tests, such as antibody tests. According to funeral homes, 22,301 people with or suspected to have had the virus have died since the beginning of the pandemic.
Catalonia's inoculation campaign began on December 27, 2020. As of July 14, 2021, 4,663,181 residents have been given the first dose of the vaccine, 59.3% of the total population. Out of those, 3,471,431 have also been administered a second dose (44.3% of the total population). 3,870,931 residents are considered to be fully immunized (49.3%).