Capacity limits on social gatherings removed in further Covid restrictions easing
Civil protection authorities also confirm June 21 nightlife return and extend raise cap on outdoor dining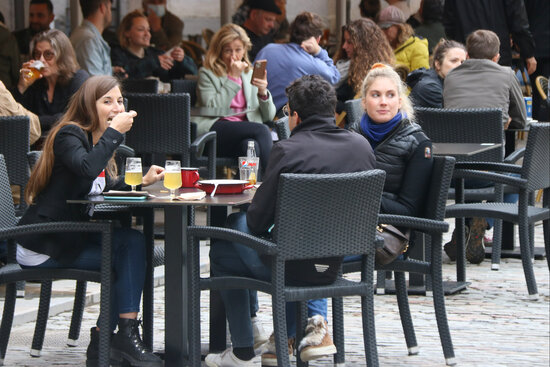 The civil protection emergency committee Procicat has agreed to lift the cap on gatherings of 10 people that had been in operation until now. From next Monday, no obligation will be in force, only a "recommendation" to avoid meetings of over 10 people.
These new measures will be in force from June 21 until July 5, with another revision and new confirmation of restrictions to come before that final date.
On Wednesday, health and interior officials also announced in a press conference that the cap on outdoor seating areas of restaurants will be raised from 6 to 10 people. Distances of 1.5 metres will have to be maintained between tables, lowered from 2 metres.
Additionally, bingo halls will be allowed to open until 1 am.
Capacities of sports and leisure activities will also be raised. In indoor spaces without reinforced ventilation, a cap of 50% of the space's total capacity must be kept and masks must be worn, except for swimmers.
The total number of people allowed at a sporting event will now be set at 1,000 indoors and 3,000 outdoors or indoors with reinforced ventilation.
'Festes majors,' local street parties, were already allowed to be held since early June, but now marquees can be erected at the celebration.
Return of nightlife
Civil protection authorities also confirm the return of nightlife on Monday, June 21.
Clubs and late bars can open until 3.30 am every day from that date, with some restrictions.
Indoor areas can only hold 50% capacities, while no limits will be placed on usual outdoor capacities.
Venues with capacities above 500 will have to sell tickets in advance.
Drinking allowed only while seated.
Safety distance of 1.5 metres must be kept between different groups, but distancing is not required among people of the same group. Indoors, groups can only be a maximum of six people, while this figure is raised to ten for outdoor spaces.
A register of attendees must be kept by the bar for a month to perform proper contact tracing in the event of a coronavirus outbreak.