Public at polling stations showed 'highly violent' behavior, Spanish police official tells court
"They blockaded our way, made human chains, they attacked us and pushed us," says Sebastián Trapote in independence trial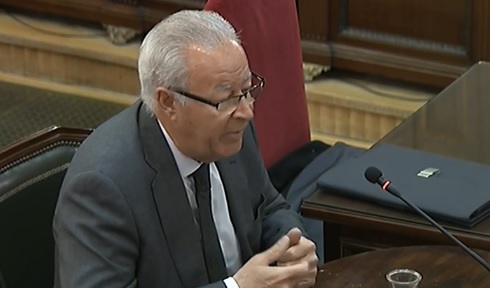 Most people Spanish police officers encountered at polling stations in the 2017 referendum showed "highly violent" behavior, the head of of Spain's National Police in Catalonia at the time told the Supreme Court on Thursday.
Testifying in the trial of Catalan independence leaders, Sebastián Trapote admitted "there were some vulnerable people" present, but added that some reports said Spanish officers had to retreat "due to the violence" of voters.
Trapote began his testimony saying prosecutors told officials to take appropriate steps to stop the referendum, and to "aid" the Catalan police, but also to have "the necessary units" in case they had to act on their own.
Early on the day of the vote on October 1, Trapote says he spoke to the coordinator of the operation (Diego Pérez de los Cobos), who, after speaking to the secretary of state (José Antonio Nieto), told him to enforce "plan B."
That meant "replacing the Catalan police" in the operation to prevent the referendum. When officers got to polling stations, Trapote said they found "citizens gathered outside the schools to halt the police operation."
"Everything was perfectly organized"
"Everything was perfectly organized," said Trapote, who added: "There were calls [to attend schools], they blockaded our way, made human chains, they attacked us, pushed us… ."