Jailed leader Jordi Cuixart 'undermined' police work, officer alleges
Badalona police officer tells Supreme Court that Òmnium head helped prevent confiscation of pro-independence posters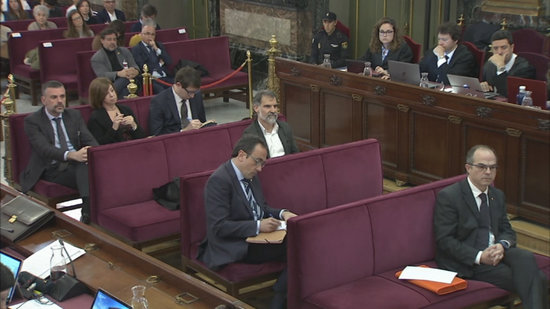 Pro-independence activist leader, Jordi Cuixart, "undermined" the work of local police who had confiscated publicity material in the run-up to the 2017 referendum, an officer giving witness testimony told the Supreme Court on Tuesday afternoon.
Testifying in the trial of Catalan independence leaders, the officer from the city of Badalona, just outside Barcelona, described how the head of the Òmnium organization placed himself in front of their vehicle, preventing them from taking the material away.
Referring to 45 posters with messages such as 'Hello Republic', 'Hello New Country' and 'Hello Europe', the witness said the local police officers put the posters in the trunk of their car, despite the mayor of Badalona telling them they needed judicial permission to do so.
"Then Jordi Cuixart came with a local councilor," the officer said, adding: "He suggested to me that we could turn a blind eye to it." The officer said the councilor ignored his instructions not to take the posters out of the trunk, and Cuixart then helped distribute them.
"People were recording us and telling us we would be kicked out of Catalonia after the referendum. And Cuixart was among the people gathered there," the Badalona police officer said, adding: "It was a tense situation."
Cuixart did not insult officers
However, when pressed by the defense, the witness admitted that Cuixart did not insult the police officers, and he also confirmed that the posters did not have the Catalan government logo or make any mention of the referendum.
The case was closed by Barcelona's provincial court, which absolved José Téllez -the individual who removed the posters from the police car's trunk.