Former speaker tells court 'freedom of speech' justified chamber debates
Carme Forcadell testifies in Spain's Supreme Court, insisting "censorship can't be allowed into the parliament"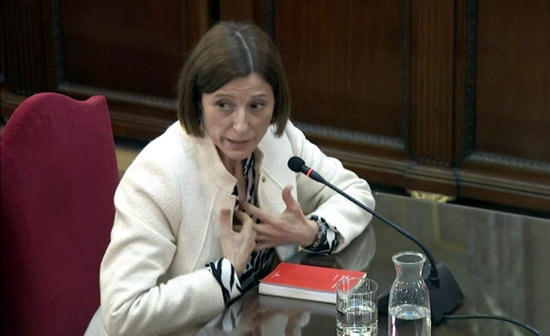 "The essence of democracy is that the words spoken in parliament have to be free, one must be able to discuss anything in the chamber," said former speaker, Carme Forcadell, who testified in the Supreme Court on Tuesday.
The last defendant to declare in the trial of Catalan leaders prosecuted over the 2017 independence bid, Forcadell cited the importance of free speech to justify allowing debates on the issue of independence in the chamber.
"The only limit to freedom of speech is respect for human rights," she said, after being asked whether she would also have used freedom of speech as grounds for allowing a parliamentary debate on human trafficking.
Forcadell is a key player in the independence movement and was the leader of a large grassroots pro-independence organization, the Catalan National Assembly (ANC), before becoming parliament speaker in 2015.
"I restricted myself to my duties," says former speaker
Yet, she denied any active role in the events that led to the independence referendum on October 1, 2017. "I didn't take part in any strategy, I restricted myself to fulfilling my duties as parliament speaker," she said.
Forcadell also denied calling on citizens to occupy schools serving as polling stations for the referendum, and insisted she had no meetings with government members at the time: "The legislative power and the executive power had nothing to do with each other," she said.
As speaker, Forcadell received several warnings from the Spanish Constitutional Court for allowing debates and votes on independence in the chamber, and the public prosecutor began legal proceedings against her.
On Tuesday, she insisted: "It's not within the parliament bureau's duties to assess the constitutionality of parliamentary proposals," and appealing to freedom of speech, added: "We can't allow censorship into the parliament."