Amnesty calls for release of two pro-independence activists
Supreme Court to decide on their appeals with prosecutor siding against it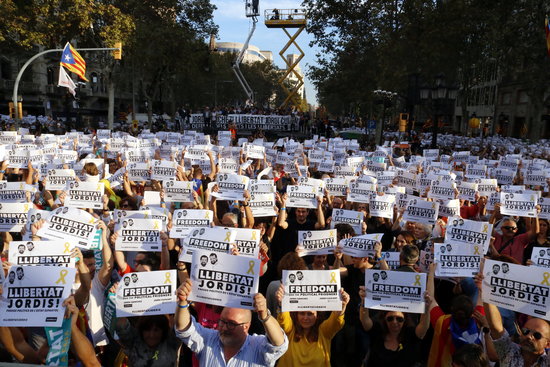 Amnesty International has called for the release of two Catalan activists, Jordi Sànchez and Jordi Cuixart, who have been in precautionary detention for 20 months pending a verdict in their Supreme Court trial.
In an open letter to Spain's public prosecutor, the human rights organization warned that the pro-independence duo have the right to release while the judges deliberate over their rebellion and sedition charges.
"According to the international human rights standards, the longer temporary detention goes on, the more there is a need for a rigorous test to decide whether it continues to be necessary and proportionate," it said.
"Excessive and disproportionate"
The group also said that if it is proven that Sànchez and Cuixart called demonstrations to impede a lawful police operation, this could carry criminal charges, but added that "the response of authorities cannot be an excessive and disproportionate restriction of human rights such as those of expression and peaceful assembly."
Amnesty has called for the release of the two activists several times since they were put behind bars on October 16, 2017, calling the detentions "excessive" and "disproportionate."
The Spanish police violence on the 2017 referendum day has also been a source of Amnesty's complaints.