Unions hope for 'tough and long' meeting with Nissan bosses
Final meeting of official consultation period on closure and redundancies underway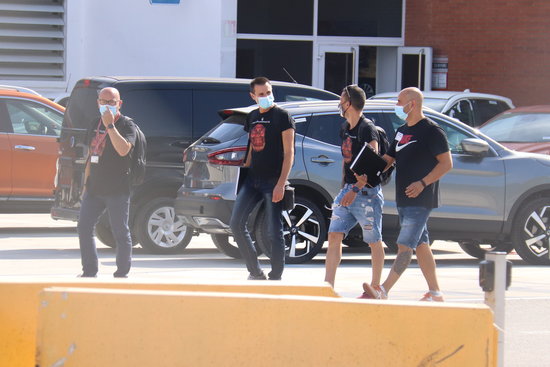 The final meeting of the consultation period of Nissan's collective redundancy plan got underway on Thursday, with management and workers in attendance and representatives from the Catalan Department of Labor taking part remotely.
Members of the works council traveled to the Zona Franca plant in Barcelona to a meeting which one spokesperson, Javier Turrillo of the CGT union, said he hoped would be "tough and long".
In addition to mediation on the collective redundancy plan (known as an ERO in Catalan), unions and executives are also meeting with Raúl Blanco, Spanish General Secretary of Industry, and Matilde Vilarroya, Catalan Director General of Industry, to study reindustrialization options.
Negotiations have been going on for the last month, with Nissan offering to push back the closure from December 2020 to June 2021 or beyond, and not make any "traumatic layoffs" this year, if workers call off the indefinite strike and return to work.
"If it wants to open again, the company has to negotiate. If the company closes tomorrow, all the workers will take to the streets." Turrillo said.
The vehicle manufacturer want staff to return to work after August to deal with pending orders.
Unions are calling for negotiations to be extended and for the Japanese multinational to withdraw the ERO, which affects 2,525 workers at the Zona Franca, Sant Andreu and Montcada i Reixac plants.
Closures announced
On May 28, following months of speculation, Nissan confirmed its intention to close its main factories in Catalonia after 40 years of operations.
The head of the company in Europe, Gianluca de Ficchy, argued that competitiveness at the Catalonia plants is too low. According to him, production levels in Barcelona are currently at 20% of the total capacity, and expected to drop further in the near future.
The decision to leave Catalonia prompted anger from employees and other workers in the supply chain, with unions saying 20,000 jobs could be indirectly affected. In the past two months, Nissan staff have gone on strike and staged a series of protests, such as a thousand-strong march in the center of Barcelona.