Tourism makes a comeback in Catalonia after Covid slump
Hotels, bars, and restaurants look forward to an almost fully-booked summer after the pandemic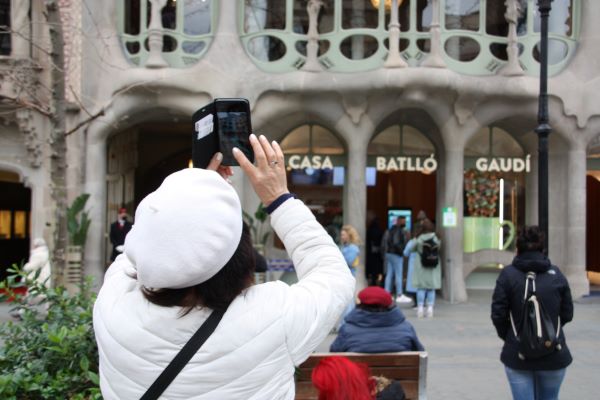 More than two years have passed since the beginning of the Covid-19 pandemic. Catalonia has changed but so have its people and the bars and restaurants they used to go to. Now, around 15% of those establishments had to shut down for good, according to data shared by Barcelona's restaurants' association.
Now, with the summer season here, at last, these businesses are hopeful for almost constant fully-booked restaurants, bars, and hotels.
"We expect to reach around 80% of 2019's levels. These are optimistic and positive figures after all we have been through," Roger Pallarols, director of Barcelona's restaurants' association, told the Catalan News Agency (ACN).
"Currently, 95% of hotels are open and at a good occupancy rate, so it seems like it will be a good season," Patrick Torrent, executive director of the Catalan tourism board, told Catalan News.
This summer will be busy not only for visitors from other parts of Spain, but also for internationals arriving to spend some time here. 2022 will mark the first time borders will be fully open and restriction-free travel will bring sightseers back to Catalonia's streets.
"There will be more American or Spanish nationals than visitors of other nationalities, depending on the hotel. The city will also welcome French, Italian, and British visitors along with some Nordic tourists," Jordi Clos, Barcelona's hotels' administration president, shared with ACN.
Barcelona's pandemic struggles
The Catalan capital "suffered a lot during the pandemic," Patrick Torrent explained to this media outlet. But now, the city is "quickly recovering."
Despite the bad situation for the city, some other Catalan destinations saw "a good level of activity" during the pandemic, the executive director stated.
The main hotspots have been the Pyrenees, inland Catalonia, or even Costa Brava, as it is "usually frequented by locals, obviously people from all other markets too, but especially Catalan citizens," Torrent explained.
"The good news is that Barcelona remains a top destination. It is appealing to tourists and continues to be an excellent place to visit," Roger Pallarols, from the restaurants' association added.
Inflation not yet impacting visits
The war in Ukraine has pushed Europe into an inflation crisis, with prices increasing each month. This could hinder the economic recovery tourism businesses have been hoping for, but for the moment the economic impact will not hit visitors' pockets straight away.
"During these two years where people have stayed at home, they have been doing staycations and now, thanks to these savings, they prefer to spend and travel, to experience new things," Patrick Torrent from the tourism board said.
On a similar note, Roger Pallarols pointed out that "the inflation crisis is really bad, but for now, it is not affecting customers' pockets, but it clearly will end up having an impact on prices."
The conflict in the eastern European country has also had another impact on Catalonia's tourism industry. One of the most important markets for Barcelona, "but especially for the coast," Jordi Clos explained, is now "lost" as the Russian market will not travel.
This will force the southern Costa Daurada coastline to "identify alternative markets" to find visitors from to fill the hotels, bars, and restaurants of areas like Salou, Cambrils, Vilaseca.
Despite inflation and the war, the industry is still "optimistic" about the future and the summer season.