Talks over ridesharing firms in stalemate as taxi protests go on
The latest talks over the regulations of ridesharing firms in Catalonia failed on Saturday night.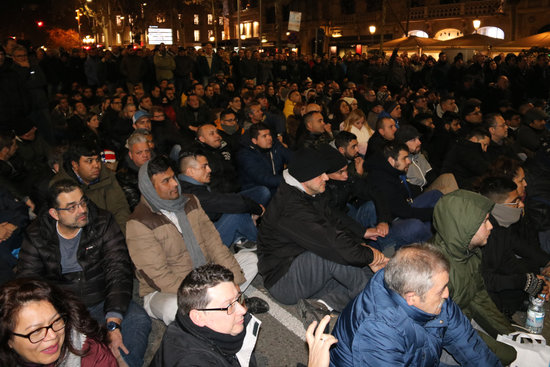 The Catalan government offered to taxi drivers expanding the time in advance the services of companies like Uber have to be hired. Taxis ask for 6 hours, while the authorities were ready to go further than 15 minutes, their first offer, but without specifying a time.
Yet drivers rejected the new proposal and announced that their indefinite strike, and the occupation of Barcelona's Gran Via main road, would continue on Sunday for a third day in a row.
But they are not the only ones upset. Representatives of ridesharing companies complained about not being involved in the talks over their own regulations, so on Saturday evening they occupied "indefinitely" the upper part of the Diagonal Avenue, in the Catalan capital.
Taxis to protest in Gran Via until at least Tuesday
Yet while on Sunday morning taxi drivers continued their protest in Gran Via, ridesharing company cars were no longer occupying Diagonal Avenue.
Later on the day, taxi drivers from other Catalan cites, such as Sabadell, Terrassa and Mataró, joined their campaign by also calling an indefinite strike.
No talks will be held on Sunday, and the government will sit at the table with representative of ridesharing companies on Monday, and with taxi drivers on Tuesday, so the blocking of Gran Via will continue for at least two more days.
Drivers of firms like Uber are ready to protest in late February during the Mobile World Congress, one of the biggest professional fairs held annually in Barcelona.
Protests "damage image" of Barcelona
Business associations warned that a new taxi strike will affected an already "damaged image" of Barcelona.
"It's a very important time for us, as it's a sales weekend," said Barcelona Oberta business association president Gabriel Jené.
"We urge authorities to restore public order and protect the general interests of the city, especially its image," he added.