Spain commits to paying Catalonia €1.4bn and to refinance debt
Some €759m have been pending from Madrid since 2008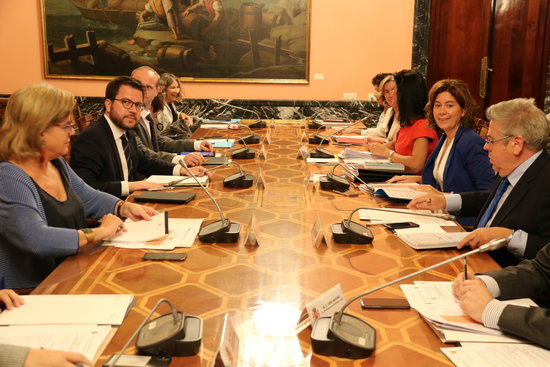 The Spanish government has committed itself to paying €1.45 billion euros to Catalonia over the next four years.
Some 759 million euros have been owed by Madrid since 2008, the sum stated in the Catalan Statute of Autonomy, the legal framework setting out the basic relationship between Catalonia and Spain.
The other 700 million euros will go towards funding the Catalan police, the Mossos d'Esquadra.
The Spanish government has pledged to start paying out the funds in Spain's 2019 budget –although it is not clear whether it will pass in the lower and upper chambers.
The Catalan vice president and economy minister, Pere Aragonès, and the Spanish finance minister, María Jesús Montero, agreed to the payments on Tuesday evening in Madrid, along with refinancing 2.7 billion euros that Catalonia owes to Spain.
This sum will move from short-term to long-term debt.
While the Spanish president Pedro Sánchez has welcomed the agreement, Aragonès warned him that he must fulfil the commitment even if the budget does not pass.
Debt at 34.8% of GDP
Catalonia has a public debt of around 77 billion euros, 34.8% of its GDP, three quarters of which is to Spain.
During the 1990s and 2000s, it stayed stable at between 7% to 9%, but due to the crisis, it increased for eight years in a row until it peaked in 2015 at 35.4%.
Since then, the sum has slightly gone up but the percentage of GDP has started to decrease.
Debt settlement
On Tuesday, Aragonès claimed that the government is considering seeking funding in the markets again –for several years since the financial crisis started, Catalonia has only been financing with Spanish loans.
Talking to the Catalan public TV channel, TV3, Aragonès also said his department is considering asking for a debt settlement.