Hundreds of private hire vehicle drivers perform slow drive protest in Barcelona
Drivers deenounce "absurdity" of regulation they say will end their trade: "We are not taxis nor platforms"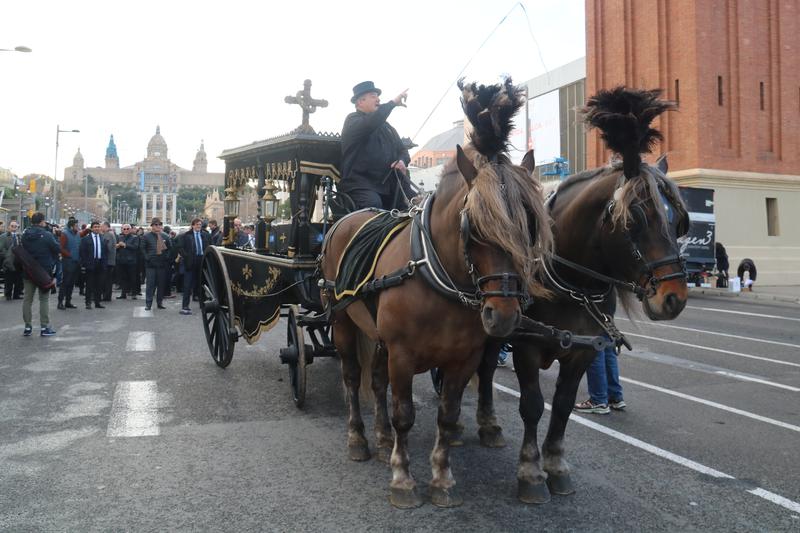 Hundreds of private hire vehicle drivers (known as VTCs in Catalan) are protesting in the center of Barcelona this Monday, performing a slow drive starting from Plaça Espanya.
Before leaving, about 250 drivers held a mock funeral for their sector, which is different to both taxis and drivers from ride-hailing apps. In Plaça Espanya, the cab drivers followed a horse-drawn carriage with a coffin on foot.
Representatives from the sector say they are caught in the middle of the "war" between traditional taxis and platforms such as Uber and Cabify, and they also criticize the government's latest decree aimed at resolving the conflict with regulations on the ride-hailing platforms.
Private hire vehicle drivers say the rules are "full of inconsistencies and errors" and will eventually "condemn the sector to disappear," as Roman Llort, spokesperson for the VTC Gran Turisme de Barcelona association, told the media.
"75% of the vehicles cannot work legally. If a client hires us and wants to go from the airport to Barcelona, that would be grounds for a penalty of €4,000 and immobilization of the vehicle", Llort explained. The traditional VTC sector consists of approximately 800 vehicles.