Hundreds line up daily to shop at Shein pop-up store
Fast fashion retailer remains popular despite controversies over working conditions and clothing quality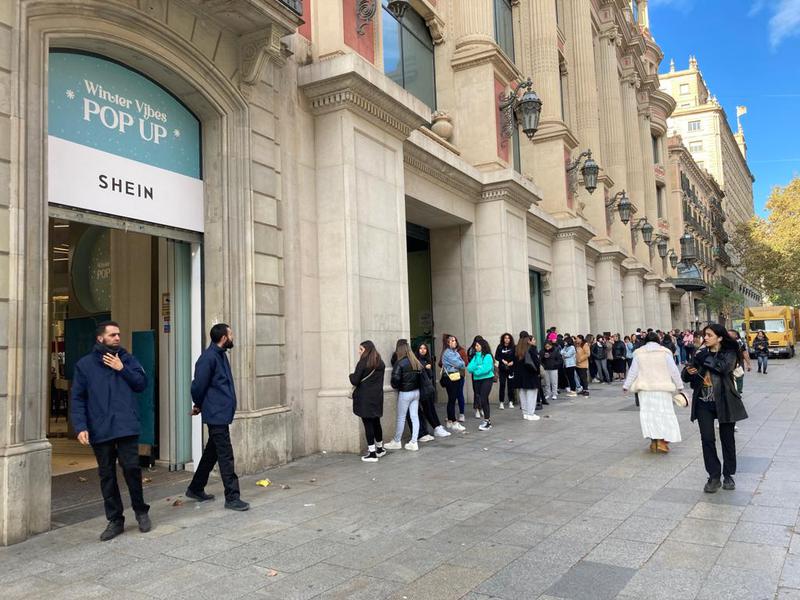 "The queue last night was so long that we decided to come back when they opened again in the morning," said one of the people in line for the Shein pop-up store in Barcelona on Tuesday.
The temporary store opened earlier this month and remains in Barcelona until November 29.
About a hundred people wait for the doors to open at 10 am every day.
Tuesday morning was the start of another busy day for the fast fashion retailer that quickly rose to become one of the biggest in its sector, gaining immense popularity online and recently introducing temporary physical stores across the world.
Temporary store
"All our kids and grandkids shop online on Shein all the time," said a group of Israeli tourists inside the store. "It is very popular in our country and they have beautiful clothes so we were walking by and we saw this so we wanted to explore it ourselves," they explained.
Due to its success on TikTok and Instagram, it attracts a young customer base. As they are used to an incredibly wide range of quickly evolving clothing options online, some seemed disappointed with the limited items inside the store.
"I just bought a hoodie for my dog, as the clothes in the store are kind of similar and they do not really suit my style," a young customer said. "On the website you can find whatever you are looking for, which is not the case in physical stores," another girl added.
Controversies
Over the course of the last few years, several journalistic and scientific reports came out that shone a bad light on the brand, causing lots of criticism to circulate online.
After an undercover journalist for Channel 4 infiltrated Chinese factories owned by Shein, they described a dangerous environment with lots of people working in old residential buildings without fire exits. The workers apparently get paid between two and sex cents per clothing item, working for very long hours with only one day off monthly, under high pressure as a large part of their daily wage gets deducted if they get caught making mistakes.
Adding to the news, a trend on TikTok started in which customers showed labels that they found in the clothing saying "we need your help," which was countered by the Chinese retailer saying: "We need your help washing the items in a specific way to maintain the quality."
This quality is ironically another controversial point, as Canadian scientists discovered dangerous amounts of lead in some of Shein's clothing, with a childrens jacket that contained 18 times the legal amount of lead in Canada and a red purse with five times over the limit. Lead can cause damaging health effects to the heart, brain, kidneys and reproductive system and children and pregnant women are more vulnerable to it.
In a recent report, Greenpeace stated that the ultra-fast fashion brand has a business model based on hazardous chemicals and environmental destruction, warning consumers not to buy products from non-EU based companies as the same regulations do not apply elsewhere. When testing 47 Shein products, 15% turned out to contain hazardous toxic chemicals.
The retail giant, said to be a $100 billion company making it one of the largest in the sector, also had to defend itself against accusations of copying independent designers and has controversially used misinterpreted items such as a muslim prayer rug and swastikas.
Extremely fast fashion
Several fast fashion companies have had to deal with these kinds of accusations in the past, as they are often based on a low priced, non-environmentally friendly model. With Shein updating its catalog with up to 6,000 new arrivals daily, the online retailer redefined the term 'fast fashion'.
Because of the similarities between the different fast fashion stores, a lot of people base their choices on prices instead of ethics."I often order on the Shein app, and even though the quality is bad sometimes, I keep returning because it is so cheap," a chinese student inside the store said.
"I heard some of the accusations, but I kind of expected it with the prices being so low, it is the case for most brands like this so I do not mind it," the same girl added.
Change of mind
For some, the bad news about the brand did have an effect. "When everything started to come out, me and my friends kind of stopped checking the new arrivals on the website and buying at Shein," said a girl who walked in out of curiosity but left empty handed.
"It felt wrong," she added. "Nevertheless maybe I am not saying I will never purchase there again but it is true that I am not as motivated to check what they have," she concluded.
When asking around in the store, a good part of the customers knew about the accusations. "I do not have an ethical excuse to be here," a Spanish student said. "In my defense I must say that since I heard about it I have not shopped online again but yes, today I came here," she admitted.
When confronting others with the news stories about Shein, some reacted shocked. "That totally changes my perception of the store," said one of the Israeli women. "Now that I know these things, I would not be as quick to buy something anymore."
Despite the negative news stories Shein recently has had to deal with, it maintains its status as one of the biggest fast fashion retailers in the world, with the popular pop-up store in Barcelona being a good example.