Greenpeace denounces government aid to keep 'unnecessary flights' at Lleida airport
Organization claims Catalan executive gave €3.2 m subsidy despite climate emergency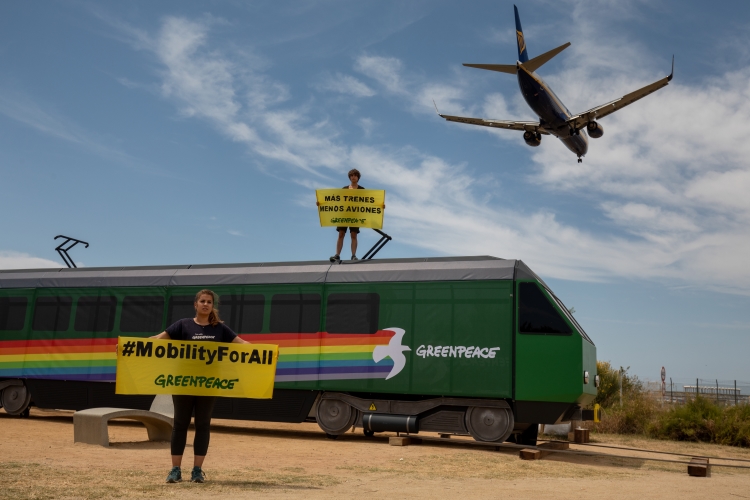 Greenpeace has denounced the Catalan government for subsidizing, with up to €3.2 million until 2023, several "unnecessary flights" at the Lleida-Alguaire airport, in inland Catalonia. The organization criticized the grants given by the executive in the midst of the climate emergency, especially as fewer than expected passengers travel through there.
The environmental NGO called on the cabinet to stop awarding financial aid to "the most polluting means of transport." With this in mind, the group wants the money to be pledged to promote mobility that does not increase carbon dioxide emissions.
The information was published on Tuesday in a report called "Tricks in the air, " in which Greenpeace blasts city council and regional governments' subsidies to the airline industry in order to maintain these flights, regardless of demand.
As opposed to Barcelona, Reus, and Girona's airports, which are all managed by AENA, Spain's national aeroports authority, Lleida-Alguaire is handled by the Catalan government. The infrastructure opened in 2010, and for Greenpeace, it has become a symbol of the "airport bubble."
The facility is yet to attract the initially expected passenger figures of 350,000. And since 2021, the Catalan government is offering "financial aid to relaunch new air routes," with a maximum of up to €800,000 per airline, Greenpeace said.
For them, it could be a policy that answers more to the Catalan government's desire to be different and political promotion, rather than getting behind a sound project.
In fact, Greenpeace warns that these subsidies are being granted despite the Ryanair controversy when they received aid to operate in Girona and Reus. Since 2012, the European Union has been investigating the contracts between the Irish airline and the Catalan government, according to the environmental group.
"Despite having declared a climate emergency, the Catalan executive is still subsidizing a harmful activity for the environment," Adrián Fernández, who is responsible for Greenpeace's mobility campaign, said in a statement.
"This aid, disguised as promotion contracts, has the real goal of having airlines keep unnecessary flights in an artificial way," he added.