Exports 42.5% higher this August than before pandemic
23.3% year-on-year increase to €6.8261bn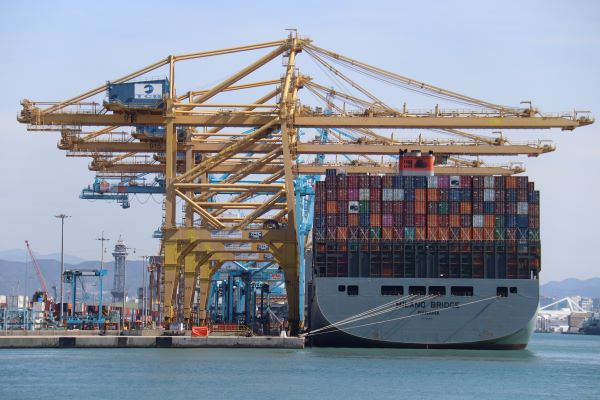 There were 42.5% more exports this August than in the same month in 2019 before the Covid-19 pandemic hit.
Catalonia saw a 23.3% year-on-year increase in sales abroad two months ago, totaling €6.8261bn, according to figures released by Spain's Industry, Commerce and Tourism Ministry on Tuesday.
Meanwhile, imports in Catalonia climbed to €8.3bn in August, 23.5% more than a year earlier, and made up 22.4% of Spain's total.
Chemical products, food, and equipment goods
The sale of chemical products, the food industry, and equipment goods are largely behind the rise in Catalan exports, which accounted for just under a quarter - 23.5% - of Spain's sales abroad.
Over a quarter of all of Catalonia's sales were of chemical products, while just under a fifth were food, alcohol and tobacco products and 15.6% were equipment goods.
Most of these sales were made by companies in the Barcelona area, which accounted for 17% of Spain's exports in August.
Although there was €61.363bn worth of exports in Catalonia from January to August 2022, more than in any other part of Spain, the year-on-year increase in Catalonia, 17.5%, was significantly lower than the Canary Islands' 121.9% or the Balearic Islands' 61.2%.
Spanish exports
Overall in Spain, exports increased by 31.7% in August, reaching €29.09 billion.
The sale of energy products has more than doubled: from January to August 2021, they accounted for 5.9% of sales abroad, while a year later they were 14.4%.
Like in Catalonia, chemical products make up the greatest part of Spain's exports (18%), followed by equipment goods (17.3%) and food, beverages and tobacco (16.9%).
Almost two-thirds of all sales abroad in 2022 so far have gone to other European Union countries.
Exports have gone up significantly this year to countries like Saudi Arabia (+207.8%), Canada (+49.5%) or Japan (+41.1%), but have more than halved in Russia (-54.9%) and Algeria (-79.85%) due to the war in Ukraine.