Barcelona airport sees 41.6 million passengers in 2022, down 21% on 2019
Catalonia's main hub slowly recovers from Covid-19 impact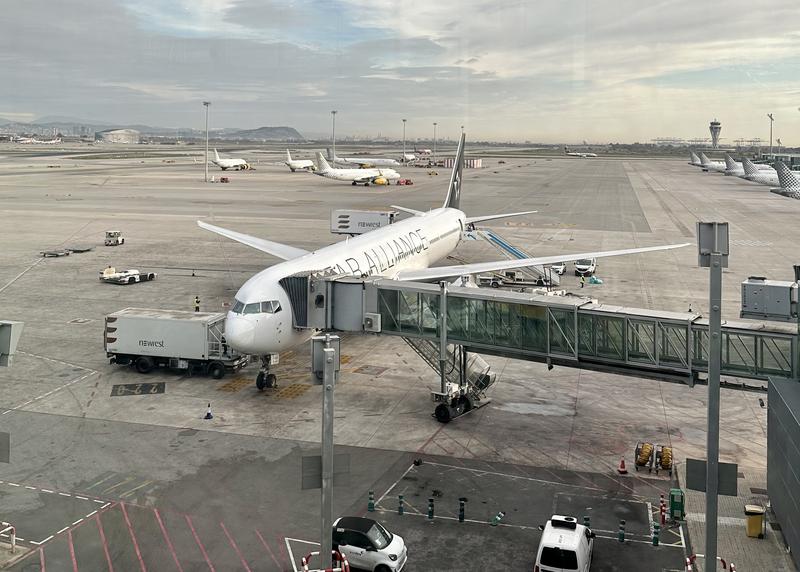 Barcelona airport has been slowly recovering from the Covid-19 impact after seeing 41.6 million passengers in 2022. The figure is still 21% lower than pre-pandemic levels but 120% higher than in 2021, as announced by the airport management company AENA on Tuesday.
Overall, 29.4 million passengers at Josep Tarradellas Barcelona-El Prat airport flew international flights, representing 76.2% of those that did before the pandemic. Compared to the 12.2 million passengers who traveled across Spain (down 86.6% on 2019).
These figures show how Catalonia's main hub has slowly recovered from the Covid-19 pandemic impact.
In total, 283,394 planes departed or landed in Barcelona, representing 82.2% of those seen in 2019. The vast majority of them, 197,480, flew to or from other parts of the world, while 83,463 had their origin or arrival in other Spanish airports.
During the last year, 155,600 tonnes of cargo arrived or left the airport, 88% of the cargo registered in 2019.
Last month of the year
In December, Barcelona airport saw 3.3 million passengers, representing 90.1% of those registered in 2019. Of these, 2,317,178 traveled to other countries (88.4% of those from 2019), and 977,825 flew to Spain (94.5% compared to three years ago).
During the last month of the year, authorities registered 22,350 departures and arrivals, 88.9% of those seen in 2019.
Other airports in Catalonia
While Barcelona is Catalonia's main hub, there are other airports across the territory. Girona, in the north, registered 1.3 million passengers in 2022, according to the figures released by the airport management company AENA.
This represents 32% fewer travelers compared to the ones seen in 2019, the last full year before the Covid-19 pandemic.
The other airport, this one in the southern city of Reus, also saw a recovery during 2022 when 911,827 travelers used the hub (87.2% of those seen in 2019).
The vast majority have been international travelers, 903,215, while 4.074 flew to other parts of Spain.
Spanish airlines fail in claims management
All Spanish airlines, which include Iberia, Air Europa, and Vueling, have failed in their claims management, according to a survey released by the AirHelp association on Tuesday.
Compared to these Spanish airlines, German Eurowings is the best-ranked of those flying in Spain, followed by Dutch Transavia.
The airport gets a 7.68, based on AirHelp's survey, in the overall grade after evaluating the punctuality rate and the services offered. The Catalan capital's airport is the third best-ranked in Spain, just below Madrid with 8.25 and Bilbao with 8.05.