Barcelona airport sees 3.2 million passengers in November, down 12% on 2019
Workers call for six days of strike action over Christmas holidays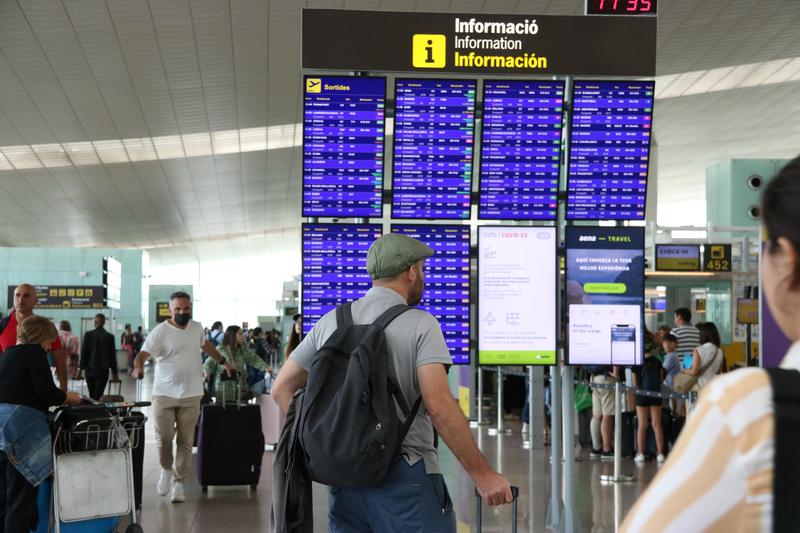 Barcelona airport saw 3.2 million travelers come through its doors in November, 11.7% less compared to the same month in 2019, the last year before the Covid-19 pandemic disrupted travel.
Some 71% of the journeys made were international flights (2,287,906) and the remaining 29% were internal flights (943,637) according to Spain's airport authority, Aena. Compared to last year, the number of passengers in November increased by 38.4%.
The month saw 21,788 flights come in and out of the airport, 12.6% less than in the same period before the pandemic. 70% of these operations were international and 30% national. Compared to 2021, the number of flights in November increased by 22.1%.
Counting the entire year so far, some 38.3 million passengers have passed through Barcelona airport, down considerably from 2019's figures (-21.8%).
The number of operations coming in and out of Barcelona airport over the course of the full year is also down significantly, -18.3%, compared to 2019, with a total of 261,044 flights touching the runway.
For all of Spain, Aena saw 17.6 million passengers, just 4% down compared to November 2019, and a total of 162,535 flights came through Spanish airport, a drop of merely -1.4%.
In relation to goods carried through Barcelona airport, November saw 13,306 tonnes of cargo moved, which represents 82.6% of 2019's figure.
For the first 11 months of the year, 143,380 tonnes of goods were transported through the Catalan capital, a figure 11.2% below the same period before the pandemic.
Airport staff call strike days over Christmas
Aena workers have called for several days of strike action over the Christmas holidays in airports throughout Spain.
The CCOO union, which represents most of the workers at Spanish airports, have called for strike action on December 22, 23, 30, 31, and January 6 and 8.
The trade union wants to see workers have productivity pay for 2020 restored as they say that air traffic has returned to pre-covid levels.
"The dividends to private shareholders are allowed, and the workers demand the recovery of what belongs to us", they said.
At Barcelona airport, there are 1,100 workers called to strike, while in Girona and Reus there are nearly 130 in each.
In a statement, CCOO criticizes Spain's ministry of transport and the various subsidiaries of the Aena group for offering "nice words" but no material action.
"We will not allow the response to continue to be delayed," the statement warns.
If no agreement has been reached by January 8, they threaten to repeat the strike over Easter, another especially busy period for travel.