Barcelona Airport: March passenger numbers show smallest gap yet on 2019
2,701,372 people used Catalonia's main airport in March 2022, compared to almost 4 million pre-pandemic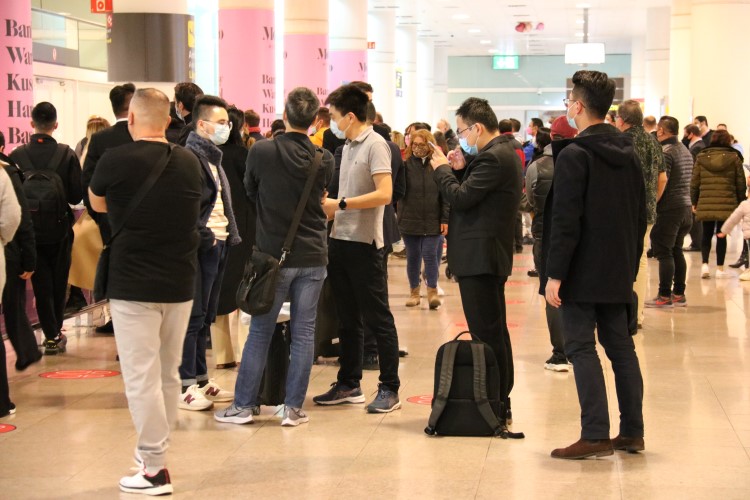 The gradual return to normal service after two years of the pandemic is reflected in the most recent passenger numbers for Barcelona Airport, released on Tuesday.
They show that 2,701,372 people flew to or from the airport during March 2022. That is more than five times as many than in March 2021 (423,774) and approximately twice as many than in the same month in 2020 (1,417,147), when the first Covid cases were detected in Catalonia.
Perhaps most significantly, it represents just 32% fewer passengers than in March 2019 (3,967,540), the narrowest gap between pre- and post-pandemic figures to date.
For comparison, 1,983,298 passengers used the airport in February 2022, 40% fewer than in February 2020 (3,280,932), while 1,701,533 passengers were recorded in January 2022, 50% fewer than in January 2020 (3,396,470).
First quarter figures
Barcelona Airport, also known as El Prat, saw a total of 6.38 million passengers in the first quarter of 2022, according to AENA, Spain's airport management company.
This figure is an increase of 469% compared to the first three months of last year, but still 39.2% lower than in 2019, before the start of the pandemic.
The number of operations – ie flights, both taking off and landing – in the first quarter of this year was 50,749, which is 70% of the comparable pre-Covid figure.
In terms of freight transport, Barcelona Airport surpassed Zaragoza Airport for the second consecutive month, making it the number two airport in Spain for non-passenger flights, with 13,542 tonnes handled in March, just 14.3% less than in 2019.
Madrid's Barajas Airport remains top in terms of passenger numbers and flights.
Barcelona Airport exceeded the average increase in passengers across AENA's network in the first quarter: while the Spanish average was a rise of 359.7% compared to 2021, El Prat saw an increase of more than 460%.
Girona and Reus
Girona-Costa Brava Airport had 27,217 passengers in March, 32% compared to the total for March 2019.
Almost 99% of passengers this March flew with Ryanair, with the most common nationalities being Germans (5,025 passengers), Italians (4,909), Belgians (3,959) and British (3,948).
Reus Airport, in the south of Catalonia, had 4,350 passengers in March, just 9% less than the same month in 2019 and 674% more than last year.
The airport will have flights to 23 destinations in six European countries this summer, including the UK and Ireland, operated by Ryanair, Jet2 and TUI.