Obamas and Steven Spielberg visit Montserrat after Springsteen concert
Former US president and first lady surprise visitors and greet abbot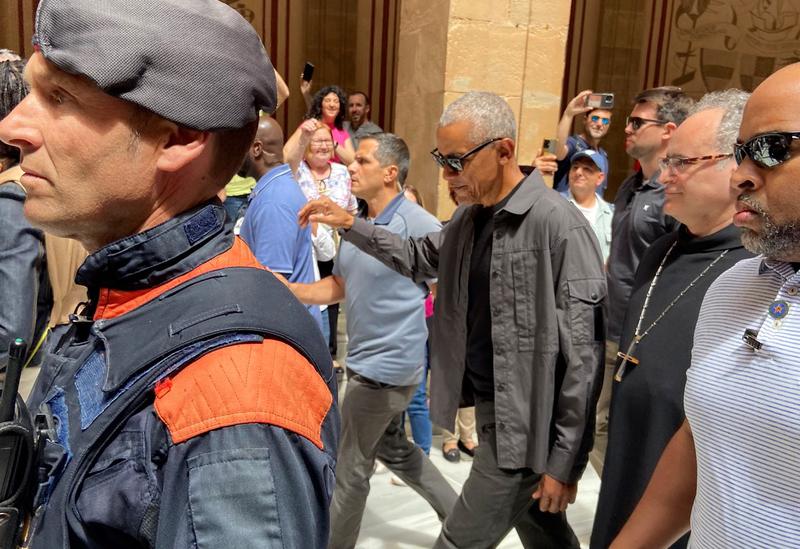 Former US president Barack Obama and first lady Michelle Obama, accompanied by Steven Spielberg and his wife Kate Capshaw, visited Montserrat on Saturday morning. The two couples went to the iconic Catalan religious mountain after attending a Bruce Springsteen concert on Friday night in Barcelona.
The surprise visit astonished many visitors as they were just enjoying a sunny morning on the hill. Obama greeted Montserrat's abbot during their visit and walked around with a large security detail.
This is not the first day of tourism across Catalonia for the Obamas and Spielbergs. On Friday morning, they visited the Moco Museum and the unfinished Sagrada Família Basilica in the Catalan capital's old town.
They are all in the territory for the Bruce Springsteen concert, as among the 60,000 spectators, these VIP figures who also enjoyed the songs of the 'Born in the USA' artist.
Montserrat: a mountain, a religious symbol, and a world-class choir
For beginners, Montserrat is a multi-peaked mountain range, with summits as high as 1,236 meters above sea level, resembling a lone yet large rocky citadel emerging from the plains of central Catalonia.
Yet Montserrat is also home to a 1,000-year-old Benedictine monastery, which has played a pivotal role throughout Catalonia's history, and houses a world-famous boys' choir and the iconic carved sculpture of a black Madonna known as 'La Moreneta'.
And then, of course, there's also the monastery's library encompassing 300,000 books and a museum featuring 1,300 artworks, including paintings by artists such as Caravaggio, Picasso, Dalí, or Monet.