Barça president: club never paid for competitive advantage
Joan Laporta suggests Barça could be "victim" of others trying to profit off "public lynching without trial"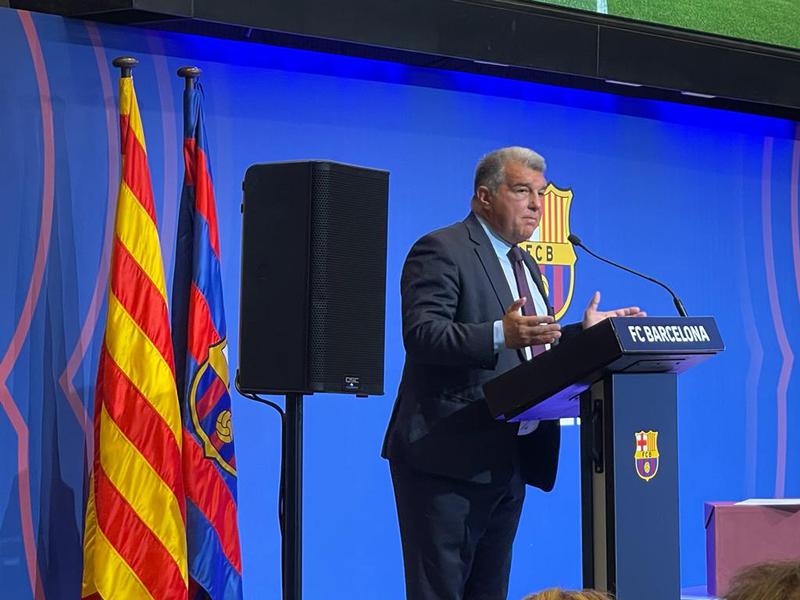 Joan Laporta has affirmed FC Barcelona's innocence regarding the highly controversial 'Negreira case', the term for the scandal enveloping the club regarding payments to a former referees official.
The club president spoke to the media on Monday morning and stated that "Barça has never carried out any action with the objective or the intention to alter competitions or obtain any competitive advantage."
He went further, suggesting that private third parties may have even taken advantage of paying Negreira's company in order to personally gain from the situation. If such a scenario proved to be the case, Laporta was clear that Barça should be considered a "victim" in the case.
In March, a court opened a criminal investigation into the payments, with prosecutors charging the club with continuous corruption.
629 referee reports
The payments to the former vice president of Spain's referees' technical committee were for reports on match officials and scouting, according to Laporta, who explained on Monday that there was evidence of 629 reports from José María Enríquez Negreira, including 43 CDs, delivered between 2014-2018.
These specific numbers were found from an internal investigation carried out by the club's compliance team working with an "independent" and "transparent" external law firm, which also found that the amount of money involved were relative to the competitions of which they pertained.
At one point during the press conference, Laporta pulled out one of the 629 Negreira reports and began to read out some of the details to the gathered reporters: "April 20, 2015, matches 2013/14, game notes from 2014/15 season."
The president continued, reading out notes from video reports: "you watch footage of a match, stop the tape, see if it's a penalty or not, etc. Characteristics of referees, if he was a referee that gave out cards easily, if they preferred you spoke to them in a formal manner or if informally was fine."
"Public lynching"
Laporta rallied strongly against the "public lynching without trial" that he feels his club have undergone in the past months after the news initially came to light, claiming that things have been inferred about his club that have "nothing to do with reality."
The Barça president, serving his second term in charge of the club, told reporters that when reports of the Negreira payments first emerged in the press, he "clearly saw an orchestrated campaign against the prestige of Football Club Barcelona."
He also suggested that his club could be a "victim" of a campaign, and suggested that other parties could have an objective of profiting from Barça being in such a vulnerable position, suggesting that a private third party may have tried to take advantage of the situation for their own personal gain.
For Laporta, it is "no coincidence" that something such as the 'Negreira case' came out at a time when the club were performing well and in process of reconstructing their stadium and the surrounding grounds, and hired a foreign company to oversee the works.
Tebas, Madrid, Super League
There were strong words aimed at the La Liga president, Javier Tebas too, but has had an especially fractured relationship with the president of the Catalan club in recent years. Laporta called his behaviour "irresponsible," "little prudent," and "lacking in professionalism," both in his public words as well as in his actions, such as bringing forward evidence in the case that turned out to be false.
Laporta also took up aim against Barça's eternal rival, Real Madrid, calling them the "regime club." He pointed out that for 70 years, the referees' technical committee has been presided over by former members, players, or directors of Real Madrid. "They have always been favored by referees," the president said, dubbing their involvement as an "exercise in cynicism without precedent."
Regarding the Super League, the controversial European breakaway competition that currently only Barcelona, Real Madrid, and Juventus are still officially involved with, Laporta was certain that the project was still for the benefit of the "sustainability" of clubs. The competition would allow Barça to compete with teams who have much greater resources than they do, referencing, but not naming, certain European clubs that are state-owned.