People's Party dreaming of kingmaker role in Barcelona and majority in Badalona
Conservatives want councilors in Tarragona and Lleida, but have little chances in inland Catalonia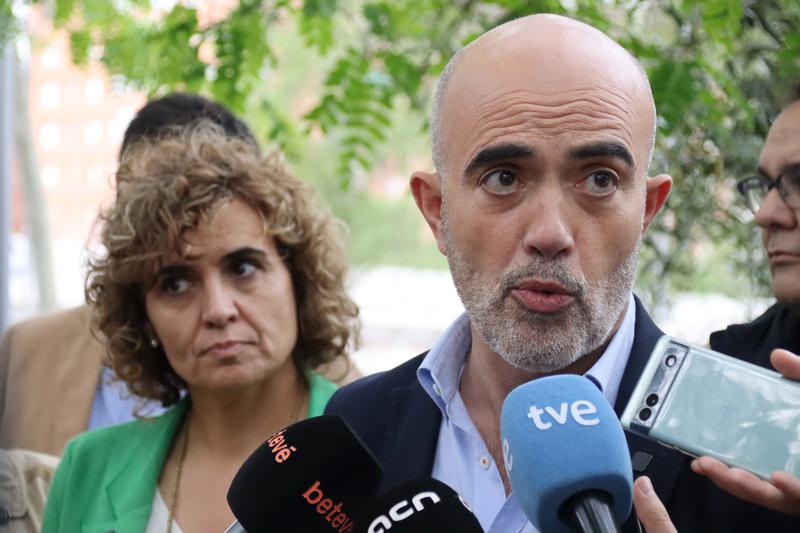 The People's Party is dreaming of playing the kingmaker role in Barcelona, that is, becoming for the first time ever the party that will decide the identity of the next mayor in the Catalan capital.
They barely entered the council four years ago, just for 0.1 percentage points, but their two councilors did not play any role in the city's governance – now they want to double the number of representatives and get 4 out of the total 41.
Polls are looking good in terms of retaining councilors, but they have more competitors than ever in the right-wing unionist camp, with Valents, Ciudadanos and far-right Vox also aiming high – according to the electoral law, only those political forces with a minimum 5% of votes will be granted councilors.
Daniel Sirera presents himself as the most staunchly opposer to left-wing mayor Colau
The People's Party's top candidate is Daniel Sirera, a former party chairman, former MP in the Catalan parliament and member of the Catalan Audiovisual Council for a decade. One of his main arguments includes presenting himself as the most staunchly opposer to left-wing mayor Ada Colau.
"The only political party which will for sure never govern with Ada Colau is the People's Party," he said in a recent political rally, referring to the current mayor, member of left-wing Barcelona en Comú.
"Mr Collboni has governed along with Colau for eight years," he also often points out, mentioning the role of the Socialists as junior partner of the mayor for most of the time since 2015.
"We are the only real guarantee for a political change, so that Colau is part of the past. A past that we will want to forget about very soon."
The People's Party wants to improve results in the local votes, but its priority is the Spanish election this autumn, in which they aim to return to the Spanish government five years later.
Therefore it is no surprise that the party leader at a Spanish scale, Alberto Núñez Feijóo, is also campaigning. In Barcelona, the politician also called on pro-Spain voters to support his political force to grant Sirera "a key role in Barcelona's governance."
If that was the case, the mayor candidate would be open to talks "to oust" Colau, but warned the Socialists and Junts against trying to put Barcelona at the hands of Spanish PM Pedro Sánchez or former Catalan president Carles Puigdemont.
In favor of businesses, against squatters
The mayoral candidate's main talking points include supporting tourism and businesses, as well as opposing irregular migration.
Yet, his main point is campaigning against squatters, contributing to the debate revolving around the squat houses in the wealthy La Bonanova neighborhood.
El Kubo and La Ruïna have been squat houses since 2016 and 2019, respectively, tension in the area has been boiling over as of late.
The buildings are owned by Sareb, Spain's bad bank, and while residents of El Kubo were initially set to be evicted last March, this has been delayed to a yet-to-be-determined date.
This Thursday, Sirera promised a department specially to "back" landlords who face squatters in their homes.
Badalona: main People's Party stronghold
This shared point with other conservative parties is not only used in Barcelona, but also in some other municipalities, such as in Badalona, one of the other top goals in Catalonia.
The fourth city of Catalonia has traditionally leaned towards the left, but ever since the charismatic People's Party figure Xavier García Albiol surged as winner in 2011, the political landscape has dramatically changed.
Albiol has governed in two non-consecutive stints, and given that the rest of the parties in the council are very likely to put together an all-party alliance to bar him from power again, he aims to achieve his first absolute majority.
"If on May 28 I become mayor of Badalona, as it seems likely to happen, I'll create a department against squatters for the first time in Catalonia and Spain," he said the night the campaign started.
Aiming to retain councilors in Lleida and Tarragona
Other rare cases of People's Party success in local elections are Castelldefels, with Manuel Reyes, and Pontons, with Josep Tutusaus, who want to also be the top force again like Albiol.
Yet, the conservatives have little chances to have good results in inland Catalonia, where they hardly ever get councilors. What they are hoping for is to retain their representatives in cities like Lleida and Tarragona, and metropolitan cities like L'Hospitalet de Llobregat and others, where they can benefit from Ciudadanos' free fall.