NASA's Earth Observatory picks Catalonia's shrinking reservoirs as image of the day
Satellite imagery comparison shows Sau and Susqueda dams in 2021 and 2023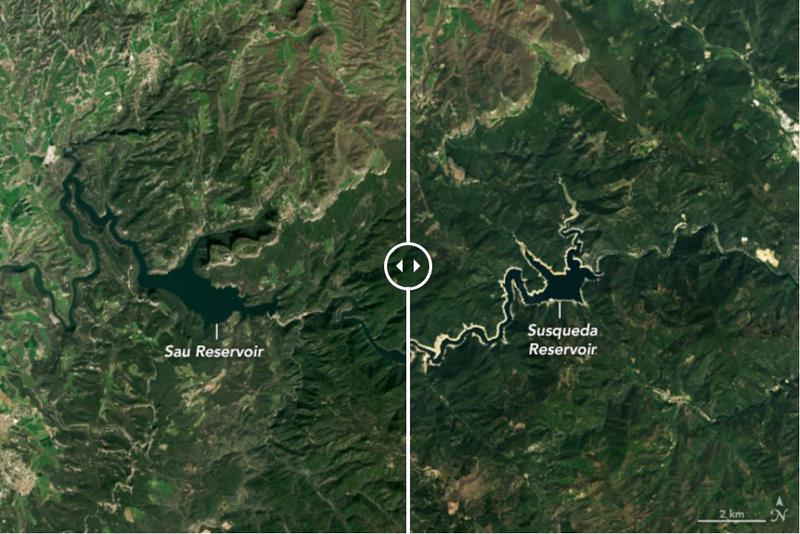 NASA's Earth Observatory has chosen Catalonia's shrinking reservoirs as the image of the day on Thursday, highlighting the "long-term drought" affecting the territory for some months now.
The satellite imagery compares the state of the Sau and the Susqueda reservoirs, around 100 kilometers inland from Barcelona, between March 21, 2021 and April 12, 2023.
The reservoirs' low water levels can be seen in the images obtained by the Operational Land Imager (OLI) on Landsat 8 on April 12, 2023, while the older photo was shot in March 2021, when water levels in the reservoirs were higher.
"Dams built along the Ter River created these reservoirs in the 1960s and they have become a vital source of water for Catalonia's residents and farmers," NASA Earth Observatory said in a written statement.
Catalonia has seasonal droughts, a "typical" phenomenon, Albert Ruhi, an ecologist at the University of California, Berkeley, said to NASA. Recently, "over the past few months, the lack of precipitation and snowpack has led to the driest spring since 1990 for the Ter River," Ruhi told the US Space Agency.
Viewers will easily notice the tan fringes of exposed rock around the water in the reservoirs in NASA's satellite imagery.
"These are areas that are underwater when the water level was closer to capacity, a phenomenon referred to as a 'bathtub ring,'" NASA wrote online.
"Falling water levels in the Sau Reservoir have exposed more than just rock. The belfry of an 11th-century church and a nearby village, which have been mostly submerged since the construction of the dam, became visible in recent months," the agency wrote.
The belfry "is occasionally exposed during times of low water; this year, the church stands several meters above the water line."
Catalonia's drought situation has been making international news headlines recently, with reports in several media outlets or news agencies such as Reuters, Associated Press, The New York Times, or the BBC.
Because of the ongoing situation, several municipalities in Catalonia have implemented measures, such as limiting personal use to 230 liters of water per person per day.
Filling the Sink podcast
Heavy rain and occasional drought are common features of Mediterranean weather, but the picture is looking quite worrying in 2023, with water levels in reservoirs consistently dropping over the past months - those managed by the Catalan government are now at 25% capacity.
Catalan News published a podcast episode on the ongoing drought situation in September 2022. Have a listen below, or search 'Filling the Sink' wherever you get your podcasts.