Canal d'Urgell closes irrigation system ahead of time due to drought
Mayors call for water rationalization to avoid 'severe restrictions'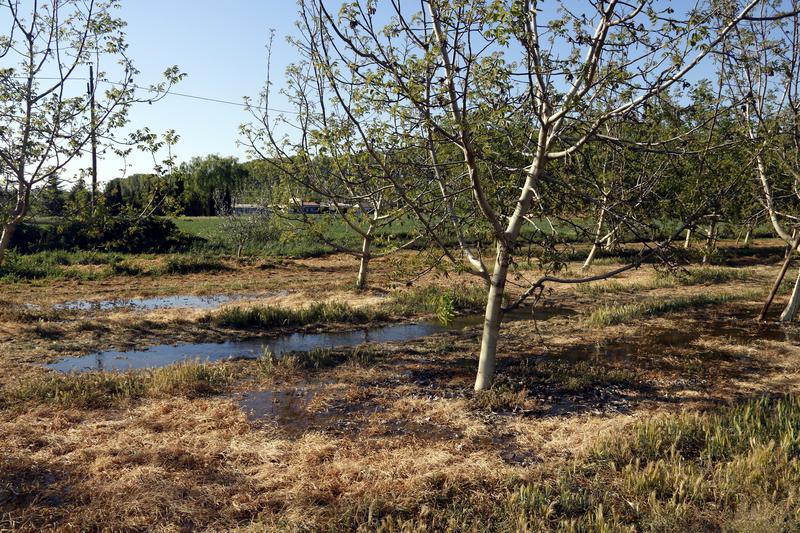 The Canal d'Urgell irrigation system closed Tuesday morning, only a month after opening, due to the lack of rain – the first time the Comunitat General de Regants dels Canals d'Urgell water authority has ever taken such a drastic measure.
This historic decision affects 50,000 of the 70,000 hectares of farmland in Segarra, Urgell, Garrigues, Segrià, and Noguera counties in western Catalonia whose water comes from the canal, with farmers fearing millions of euros in losses.
"This has never happened in the Canal d'Urgell's 150 years, even the elderly do not remember situations like this," said Àngel Mas, a farmer. "The outlook is bleak."
The canal also supplies water to some 77,000 inhabitants whose reserves are guaranteed for now.
Speaking to the press on Tuesday following the weekly Catalan cabinet meeting, government spokesperson Patrícia Plaja urged the Spanish government to take action to revert the situation by investing in canal renovation works - as the water comes from the Ebre river, it is under the Spanish government's jurisdiction.
The spokesperson said that the Catalan government would be willing to fund 60% of these works if Madrid covered the remaining 40%.
"No restrictions have been applied despite the Catalan government's warnings," Plaja complained. "The drought did not start yesterday."
Water rationalization
Some 30 mayors of western Catalonia towns whose water is supplied by the Canal d'Urgell have banded together to call for water rationalization in order to avoid "severe restrictions" if the 30-month drought continues.
The mayors of the Pla d'Urgell area as well as county representatives met Monday evening to discuss the issue and draft a letter urging the population to be aware of the dire situation.
"Everyone should use water responsibly, both drinking water as well as water that is supplied to towns from treatment plants and is used in pools or to clean cars," said Rafel Panadés, who is in charge of overseeing municipal supply from the Canal d'Urgell.
Winter irrigation system in summer
The Canal d'Urgell will now be opened for a week and closed for three days as is done in the winter.
But because water consumption is much higher in the summer than in the winter, the water authority will replenish supplies to guarantee towns have enough reserves to meet the demand.
This, however, is all but guaranteed in the long run, as there is currently only enough water "until the end of September" if it does not rain.
Reservoirs at 26% capacity
After weeks without significant rainfall, reservoirs managed by the Catalan government are at an average of 26% capacity as of April 24, 2023, according to the Catalan Water Agency.
Learn more about the issue by listening to the Filling the Sink podcast episode from September 2022.