Senior Slovak official calls Catalan leaders' sentences 'cruel' and 'unbelievable'
Foreign minister meets with foreign affairs chairman Lubos Blaha in Bratislava, while EU parliament head calls for "tensions to diminish"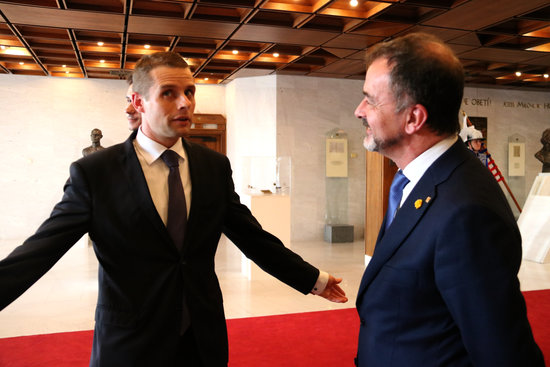 The prison sentences of up to 13 years handed down to Catalan independence leaders are "cruel" and "unbelievable," Lubos Blaha, the Chairman of the Committee of the National Council of the Slovak Republic for European Affairs, said on Thursday.
Blaha made his remarks following a meeting in Bratislava with Catalonia's foreign action minister, Alfred Bosch, who was in Slovakia as part of a tour of European countries to raise international awareness of the Catalan conflict.
Expressing surprise at the length of the sentences given to the leaders behind the 2017 independence referendum, Blaha said the jail terms may have been "normal in the Middle Ages but in the 21st century in the European Union it is something we should speak about."
Meanwhile, the vice president of the Slovak parliament, Martin Klus, said that he doubted "jailing anybody is the way forward," and he added that the solution is dialogue and that he hoped "discussion between the Spanish and Catalan governments starts soon."
It was an opinion shared by Bosch, who insisted that "the only way to resolve the conflict we have in Catalonia is through dialogue," and he dismissed the idea that it is an internal matter, calling it "an issue of universal and democratic values."
There was also a reaction to the sentences on Thursday from the European Parliament president, David Sassoli, who said that while he would respect the Supreme Court's verdict, he hopes that the "tension" in Catalonia "diminishes."