Danish MPs visit former Catalan speaker in jail
The members of Danish parliament are also set to meet with incarcerated Catalan grassroots leaders and former ministers on Friday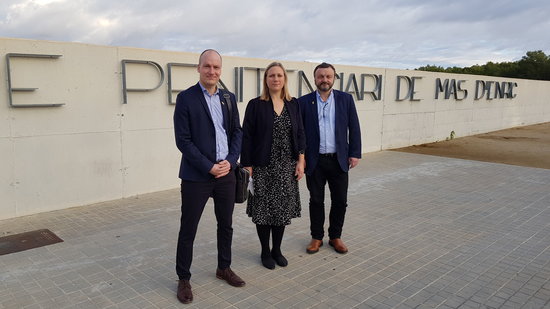 Three MPs from Denmark on Thursday visited the former Catalan speaker, Carme Forcadell, in the Mas d'Enric prison, and on Friday afternoon will visit grassroots leader Jordi Cuixart and MP Raül Romeva in the Lledoners penitentiary.
The delegation from the Danish parliament is in Catalonia at the invitation of the Òmnium Cultural pro-independence organization, and will hold meetings in Barcelona with the group's vice president, Marcel Mauri.
The Danish politicians are Pelle Dragsted, spokesman for democratic affairs for Red–Green Alliance, Eva Flyvholm, foreign spokeswoman for the same party, and Magni Arge, MP for the Faroe Islands in the Danish parliament.
Arge and Dragsted have in the past made public statements on the situation in Catalonia, the firsts in the Nordic Council – which includes representatives from Denmark, Norway, Greenland, the Faroe Islands, Iceland, Sweden and the Åland Islands – and the second in the Danish parliament.
In fact, Dragsted asked the Danish foreign minister questions about the jailed leaders and reproached the government in Copenhagen for not putting more pressure on Spain in a case he considers to be an "infringement of human rights."
The MPs, who will spend two days in Catalonia, say they are "very worried" about the situation in Spain, with the events of the October 1 referendum and the imprisonment of pro-independence leaders, as well as the rise of the far right in Europe and Spain.
All three politicians aim to use their visit to Catalonia to focus international attention on a situation that they consider "unjust" and to defend "democratic rights and freedoms."