Barcelona honors road traffic victims on world remembrance day: 'It's a daily tragedy'
New support service for crash survivors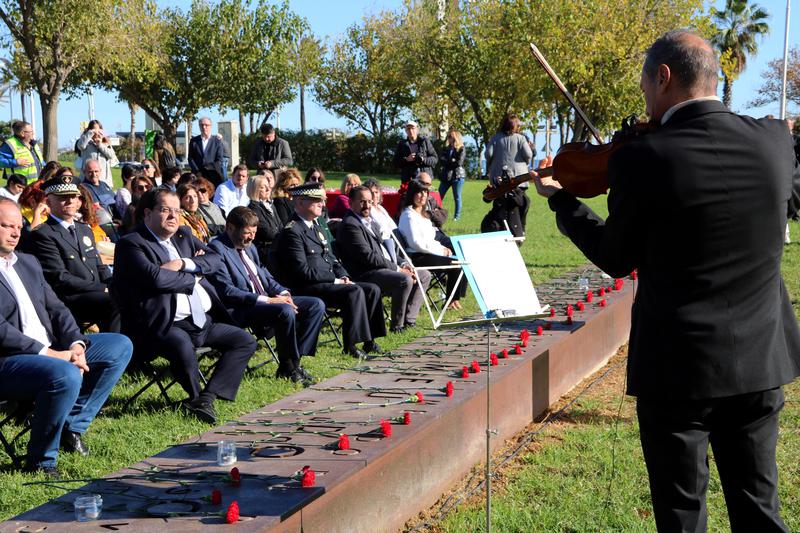 Authorities and family members of crash victims gathered in Barcelona on Sunday to mark the World Day of Remembrance for Road Traffic Victims.
The event, which took place on the Passeig Marítim de la Nova Icària boardwalk, began with attendees placing roses and candles on a memorial as a violinist played Sinatra's 'My Way'.
Family members of victims, such as Maria Pilar Rosanes, whose son Josep died at age 20 in Galicia, were then able to share their stories.
"Josep went on a trip with his father but didn't make it back home. And what happened to the person responsible for this? Nothing," she said.
"My son's life is worth more than a dumpster that's been set on fire," she lamented, referring to the ongoing legal battle surrounding the accident two years on.
Rosanes, like others who have lost loved ones, believes "road violence" should be recognized as a crime.
Catalan interior minister Joan Ignasi Elena and Barcelona councilor for safety Albert Batlle, who were also in attendance, thanked the family members of victims for transforming their pain "into action so others do not have to suffer."
Elena, who described the accidents as "a daily tragedy," also announced the creation of a new support service for the survivors of serious crashes starting next month.
"Sometimes we only talk about the hardest figures, the deaths, but behind them, there are victims who have ongoing health problems and who have trouble moving forward," the minister said. "They also need our support."
Batlle highlighted Barcelona's "worrisome figures": 22 people have died in traffic accidents in the Catalan capital so far this year, of which 15 were motorcyclists.
"We are far from our goal of having zero victims," the councilor said.