Catalan leaders in court facing crimes of more than 30 years in prison
15 officials have appeared while President and 4 ministers have asked to appear via video from Brussels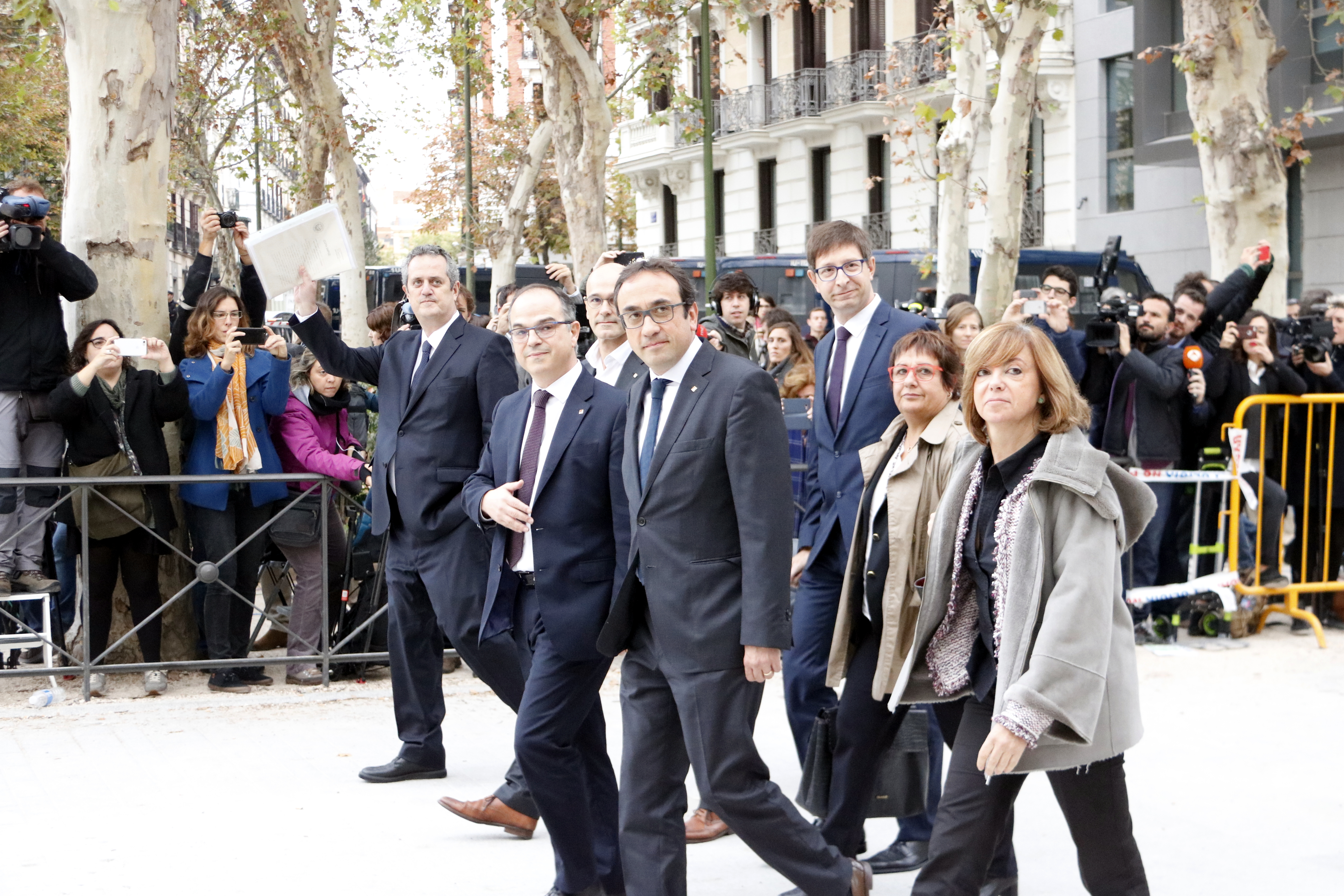 Spain's National and Supreme Courts are already hearing testimony from fifteen Catalan leaders, including eight dismissed Catalan ministers and one former minister. Six members of the Catalan Parliament bureau, led by the president of the chamber Carme Forcadell, are also in court. The hearing is underway and no one is ruling out the possibility that some of them end up in prison provisionally. The attorney general's office has accused them of rebellion, sedition and misuse of funds, crimes that carry more than thirty years of prison altogether. In the meantime, the dismissed Catalan president, Carles Puigdemont, and four of his ministers have also been summoned, but they have not gone to Madrid. Their lawyer has proposed that they give testimony from Brussels with a videoconference call.
Eight dismissed ministers in court
Hearings with the dismissed Catalan ministers of economy, home affairs, foreign affairs, presidency, territory, justice, social affairs and governance are underway in Madrid. The first to appear before the judge was the presidency minister and executive spokesman, Jordi Turull, at 9.50am local time. He finished his hearing around 25 minutes later. Turull and the other ministers are responding only to their lawyer's questions. By 11am six of them had already given testimony. The former business minister, Santi Vila, who stepped down in disagreement with the Declaration of Independence, is also in the Spanish National Court.
At the same time, hearings at the Supreme Court were due to start on Thursday morning against five members of the Catalan Parliament bureau and one former member of the same authority. Yet their lawyers have managed to convince the judge to postpone the hearings until November 9 to allow them time to prepare a defense. They are also accused of rebellion, sedition and misuse of funds for allowing the vote on the Declaration of Independence last Friday as well as other votes.
Judge already sent to prison two civil pro-independence leaders
Judge Carmen Lamela who is hearing testimony from the eight dismissed ministers and also Santi Vila is the same judge who ordered that two civil pro-independence leaders in October, Jordi Cuixart and Jordi Sànchez, be held in prison until their trials. They were accused of leading demonstrations that "blocked" the work of the Spanish police who raided Catalan government buildings on September 20. The events happened in an anti-referendum operation led by the Spanish police.
Defense lawyers have denounced the speed at which the legal process is going, criticizing the fact that the court summonses were given with extremely short notice, in some cases, less than 24 hours, calling it a violation of fundamental rights.