What to do for the La Mercè celebrations in Barcelona
From September 23-26, the Catalan capital turns into a stage for concerts, dance performances, theatre, and more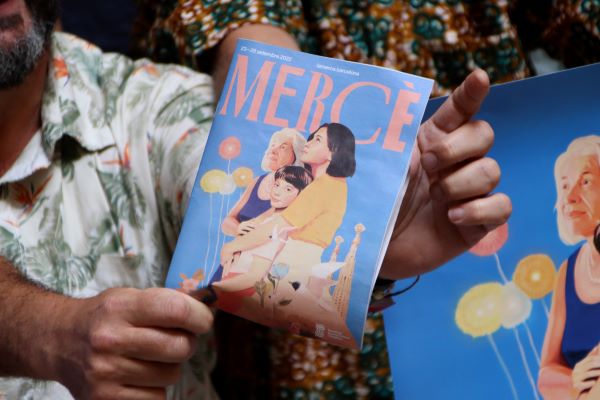 Barcelona's biggest public street festival is back after two years of greatly reduced editions due to the pandemic. From September 23-26, La Mercè will take over the Catalan capital, filling its streets and squares with music, arts, performances, and joy.
For the first time since 2019, La Mercè will be able to play host to large gatherings of revelers at concerts, traditional 'Sardana' dancing, and parades featuring beasts and giants with complete pre-pandemic normality once again.
Click here for the full La Mercè festival program.
For those uninitiated with the celebrations of La Mercè, the entire city of Barcelona turns into a stage for the arts for a long weekend. Or rather, dozens of stages, for all sorts of different disciplines. Taking a stroll through almost any corner of the city could lead to stumbling upon a rock concert, or flamenco, or electronic music, or almost any other style of music. And on top of that, everything is completely free.
But the festival is so much more than music, as one could easily bump into a puppet show, a parade, film screenings, firework displays, clowns troupes, theatrical performances, interpretive dance performances, and so much more.
Every year, another city from around the world is chosen as a paired city to share the celebrations with Barcelona, and this year's is Rome. Artists from the Italian capital as well as the Italian Institute of Culture in Barcelona will partake in various activities scheduled throughout the weekend.
Filmmaker Carla Simón will be present to kick the festivities off on the opening day, Friday, September 23. From then, for four days, the party begins. Here's how to get the most out of La Mercè, Barcelona's biggest 'festa major' in three years.
Music
Concerts are a central part of the Mercè celebrations. Around a hundred different groups will be performing across the four days, with the majority coming from Catalonia, but some groups hailing from other parts of the world as well.
There will be twelve stages set up across the city to enjoy the performances, with some iconic spaces chosen to be part of the festival. The twelve spots where you can enjoy concerts are: Teatre Grec, Jardins del Doctor Pla i Armengol, Rambla del Raval, Avinguda de la Catedral, Avinguda Maria Cristina, Antigua Fàbrica Estrella Damm, Bogatell beach, Moll de la Fusta, Plaça Major de Nou Barris, Fabra i Coats, Ronda Sant Antoni, and Zona Universitària. Those last two – Ronda Sant Antoni and Zona Universitària – are new this year.
Among the highlights playing concerts this year are The Tyets, one of Catalonia's most exciting emerging urban pop groups. They'll perform at the Els 40 stage at Zone Universitària on Sunday night. Also playing the same stage on the same evening are Miki Nñuñez, Lola Índigo, and Doctor Prats, completing a night of pop not to be missed.
The Teatre Grec, the scenic outdoor theatre located on Montjuïc, will play host to various Mediterranean and Latin-American concerts on Friday night, from Cuban multi-instrumentalist Alain Pérez and his band playing Cuban folk, an orchestral performance of the soundtrack of IDEAL Arts Centre's Frida Kahlo exhibition, and the young Catalan duo Lucia Fumero and Rita Payés offering a piano and trombone recital.
Moll de la Fusta, the dock overlooking boats along the old town's Gòtic district, will have two stages set up. Saturday evening there will be an eclectic mix from all over the world, including Swedish synth-pop artist Molly Nilsson, also Swedish death metal group Frantic Amber, Madrid-based experimental electronic artist Cruhda, as well as Estonian folk music from Duo Root, Marina Satti giving her personal style of traditional Greek-inspired hip-hop, and Morrocan rapper Issam, among others.
Dance and theatre
The performing arts also play just as important a role in the La Mercè celebrations as music does. A total of 86 shows are programmed, among dance, theatre, humor, and circus shows, which will take place over seven arts spaces. In total, 131 companies and artists will be participating in the performing arts section of the festival.
With the aim of de-centralizing the La Mercè festival, shows have been scheduled throughout all corners of the city. The seven spaces are: Parc de l'Aqüeducte, Parc de la Ciutadella, Parc Joan Miró, Montjuïc Castle, Palauet Albéniz, Parc de la Trinitat, and the Antigua Fàbrica Estrella Damm.
The festival will also have some British collaboration this year, with participation from the British Arts Council. The Stopgap Dance Company specialize in inclusive dance interpretations, and they will offer their pioneering production Frock! in Parc de la Ciutadella twice a day from Saturday to Monday.
African rhythms will also come to the fore in an experimental fusion performance combining dance, live music, and audience participation in It Began in Africa, by Festa Sabar. Catch that late on Friday, Saturday, or Sunday night.
For families, Parc Joan Miró is especially organized for the younger arts fans. There you will find various shows and activities such as workshops, interactive installations, family games, circus performances, dance, music, and clowns.
The circus will also play a prominent role in the area of Montjuïc Castle. This year, the 'Cabaret de Circ' will be a meeting point for various international production companies with involvement too from Ukrainian refugees.
Popular culture
No 'festa major' in Catalonia is complete without the traditional 'correfoc' – the 'fire run' featuring devils costumes and lots of pyrotechnics and firecrackers. This year, La Mercè celebrates 200 years of the iconic Passeig de Gràcia boulevard, and the traditional 'correfoc' will take place on the famous commercial street on the Sunday of the festival. A parade featuring traditional 'gegants' and 'gegantes' (literally "giants" in Catalan) as well as various mythical beasts will open the festival on Friday 7pm starting on La Rambla.
'Castellers' – traditional human towers – also take pride of place at the festas, with Saturday and Sunday reserved for special activities. Saturday afternoon will see different groups from various neighborhoods hold 'casteller' meetings, while Plaça Sant Jaume at 12 noon on Sunday will see a convergence of many.
Lastly, the fireworks shows are back with a bang. The beloved 'Piromusical,' a special fireworks show set to music, rounds out the festival on Monday night at 10pm. This can best be enjoyed in the area around Plaça Espanya and the road leading up to the MNAC, Avinguda Maria Cristina.
Additionally, there will be two other fireworks displays on Friday and Saturday nights at Barceloneta beach.