Michael Bublé charms Barcelona audience with Higher tour
Canadian singer performs latest hits and covers at Palau Sant Jordi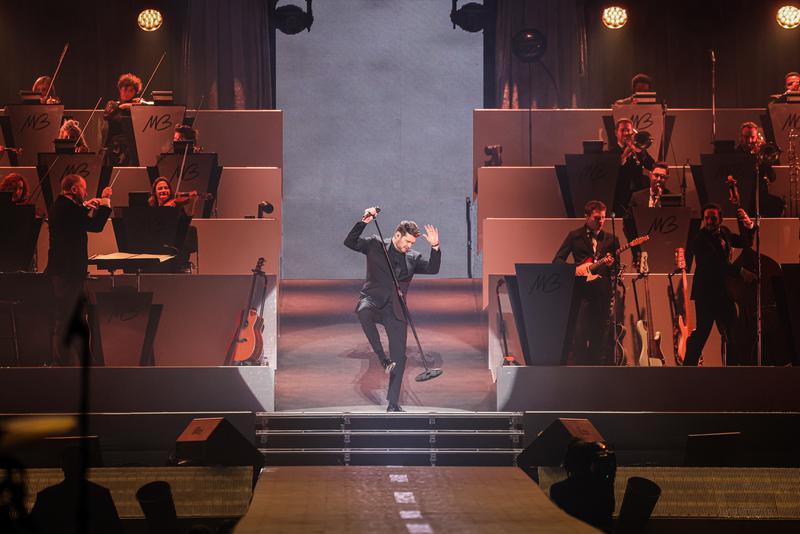 Canadian singer Michael Bublé captivated a 14,000-strong crowd at Barcelona's Palau Sant Jordi on Wednesday night as part of his Higher tour.
Microphone in hand and always dancing, Bublé put his heart and soul into a repertoire that included songs from his latest studio album, his first in almost four years.
Some, such as 'Feeling good', popularized by Nina Simone, or Nat King Cole's 'L-O-V-E', were covers, but Bublé also performed a number of his own songs, like 'I'll never not love you' or 'Higher', which lends its name to his new album.
The Canadian singer was accompanied on one side of the stage by an all-women string ensemble and a group of male wind instrument players on the other, with a gospel choir making an appearance for songs like 'Everything' or 'Fever' and the audience singing along here and there during the hour and a half long show.
The multiple Grammy and Juno awards winner exuded easy-going confidence throughout his performance, moving the crowd during the emotional ballads but also cracking jokes and getting a good laugh out of them between songs — at one point he even called his mother live on stage.
The importance of family, indeed, was a recurring theme throughout the night as Bublé explained that he had had to take some time off to focus on them before releasing his ninth album.
Bublé ended the show with a rendition of Elvis' 'Always on my mind' and thanked the crowd for attending: "Thank you for being here Barcelona. It's a difficult time for all families. Thanks for the support!"
The Canadian singer came to the Catalan capital after performing in Madrid a few days ago. Milan is the next stop on the European leg of his world tour.