Festival Grec 2021 puts emphasis on local creators
Theatre, dance, music, and circus festival will feature around 100 shows with an international offering of African artists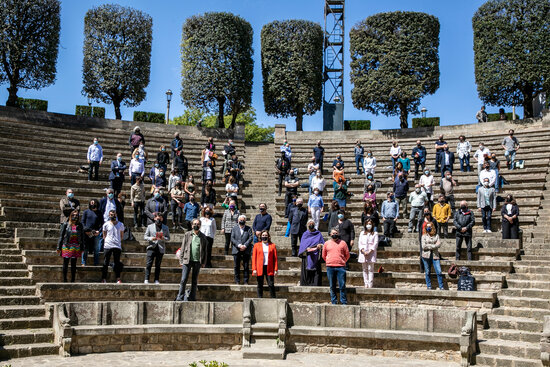 Festival Grec returns to the Catalan capital this summer with around 100 cultural shows on offer between June 27 and July 31, but with some shows kicking off as early as June 10.
The festival of theatre, dance, music, and circus will not be called off by the pandemic, and will focus largely on local artists and creators for its programme this year.
Forty different spaces across Barcelona will host performances and shows for an "optimistic, very powerful, and ambitious" theatre festival, as acclaimed by director Francesc Casadesús.
The festival will start at the Greek Theater with the adaptation of the novel 'Carrer Robadors' by Mathias Enard, directed by Julio Manrique.
Emphasis on local creators
The festival head is committed to supporting local creators, with a strong presence of artists from Barcelona and Catalonia co-producing half of the shows scheduled.
In this way, organizers want to support Catalan artists after an extremely difficult period throughout the coronavirus pandemic by offering more opportunities. Additionally, the decision goes hand-in-hand with uncertainties over international travel, casting doubts over whether international performers would be able to come.
More than 20 Catalan production companies are involved in the festival's programming this year, including Sixto Paz, Les Impuxibles, T de Teatre, Iniciativa Sexual Femenina and Zum-Zum Teatre.
In addition, a large part of the international programming puts focus on African artists with works inspired by and in "dialogue" with Barcelona.
However, Francesc Casadesús said they wanted to avoid "folklore", and in the line of putting more emphasis on local production, the schedule has been put together "listening to Africans living in Catalonia and African descendants."
It is, Casadesús said, the expression of "Barcelona's Africa, the one we have to reach."
Budget and ticketing
Festival Grec 2021 has the same budget as last year, €3.3 million, but will last one week longer than usual. Among the hundred proposals are a dozen rescheduled events from last year that could not go ahead due to the pandemic. Some of these shows will take place ahead of the official start of the festival, scheduled in theaters to begin on June 10th.
As of yet, organizers do not yet know what capacity the shows will be allowed to accommodate. Initially, tickets amounting to 50% of venues' capacities will go up for sale, but organizers are confident that by the end of June, 70% occupancy will be allowed.