Tense protests leave nearly 90 injured and 4 arrested across Catalonia
Thousands take to the streets peacefully to demand Puigdemont's release after his detention in Germany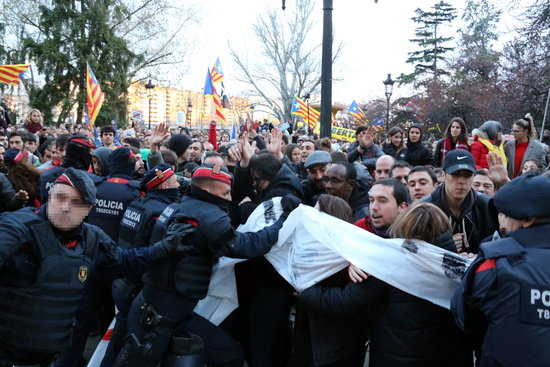 Thousands took to the streets across Catalonia to demand that the German authorities release Carles Puigdemont, who was arrested on Sunday near the Danish border. Most of the rallies were peacefully. Still, tensions between some protesters and police were high in some demonstrations. The gathering in front of the Spanish government delegation in Catalonia was particularly tense. Police charges in Barcelona left 80 people injured. In addition, 4 were arrested.
The rally started at 5pm, and went from the European Commission office in the Catalan capital to the German consulate. Demonstrators called for a general strike and demanded the release of "political prisoners". Protesters shouted chants such as "Puigdemont is our president," "not a single step backwards" and "this Europe is a disgrace" in a tense protest. In addition, they chanted the Catalan anthem, 'Els segadors', to express their opposition to the imprisonment of Catalan leaders.
8 injured in Lleida
Protests also left 8 injured in the Catalan town of Lleida. As happened in Barcelona, people gathered in front of the Spanish government delegation in the town. Police officers prevented people from going to the building, leaving 6 injured. In the southern town of Tarragona, at least one person was wounded.
Protests across Catalonia to demand Puigdemont's release
There were protests to demand Carles Puigdemont's release across Catalonia. Thousands took to the streets on Sunday, after the Catalan leader was detained in Germany. According to police figures, 10,000 people gathered in the northern town of Girona to demand Puigdemont's release. There were also demonstrations in other towns, such as Tarragona or Vilanova i la Geltrú.