Extradition hearing for Catalan leaders in Belgium postponed
Comín, Puig and Serret to appear in court on May 16 after prosecutor requests more information to Spain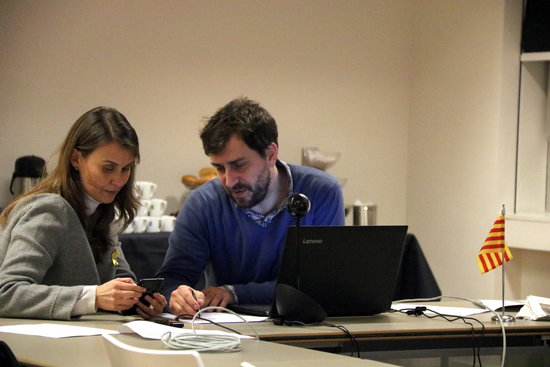 A Belgian court has postponed the hearing to decide on the extradition of Toni Comín, Lluís Puig and Meritxell Serret, three deposed Catalan ministers seeking refuge in the country. The decision came after the prosecutor in Brussels requested more information from Spain in order to determine for what crimes the pro-independence leaders should be extradited. The next hearing will take place on May 16.
Comín, Puig, and Serret traveled to Belgium last October after the Spanish government dismissed them following a declaration of independence. In Spain, they face criminal charges for their role in Catalonia's independence bid. While Serret and Puig are accused of misuse of public funds and disobedience, Comín faces charges of rebellion, as well.

The prosecutor in Brussels has to decide what the best match is for these offenses in the Belgian criminal code. In a controversial decision, a German court recently dismissed the rebellion charges against Carles Puigdemont, the deposed Catalan president formerly based in Belgium, currently in Germany awaiting a decision on his extradition.
In a previous hearing, the court decided not to hold the deposed ministers in custody while making a final decision on their extradition. Yet, Comín, Puig and Serret will not be able to leave the country until the Belgian judiciary determines whether to accept the European Arrest Warrant or not.

The defense lawyer Paul Bekaert said that the court decision is "partially positive" because the Belgian judiciary dismissed the charges of rebellion. According to him, the defense is optimistic about the prospects of the European Arrest Warrant being rejected.
It's the second time that the three pro-independence leaders face an extradition process. Last time, the Supreme Court withdrew the European Arrest Warrant over concerns that the court in Brussels could take decisions that interfered with the ongoing proceedings in Spain.

Bekaert said that the defense attorneys are more confident than the previous time, as currently, the defendants stand as elected members of the Catalan parliament, in a vote held last December.