Barcelona attack: what we know so far
At least 13 dead and 100 injured after van crashes into the crowds in la Rambla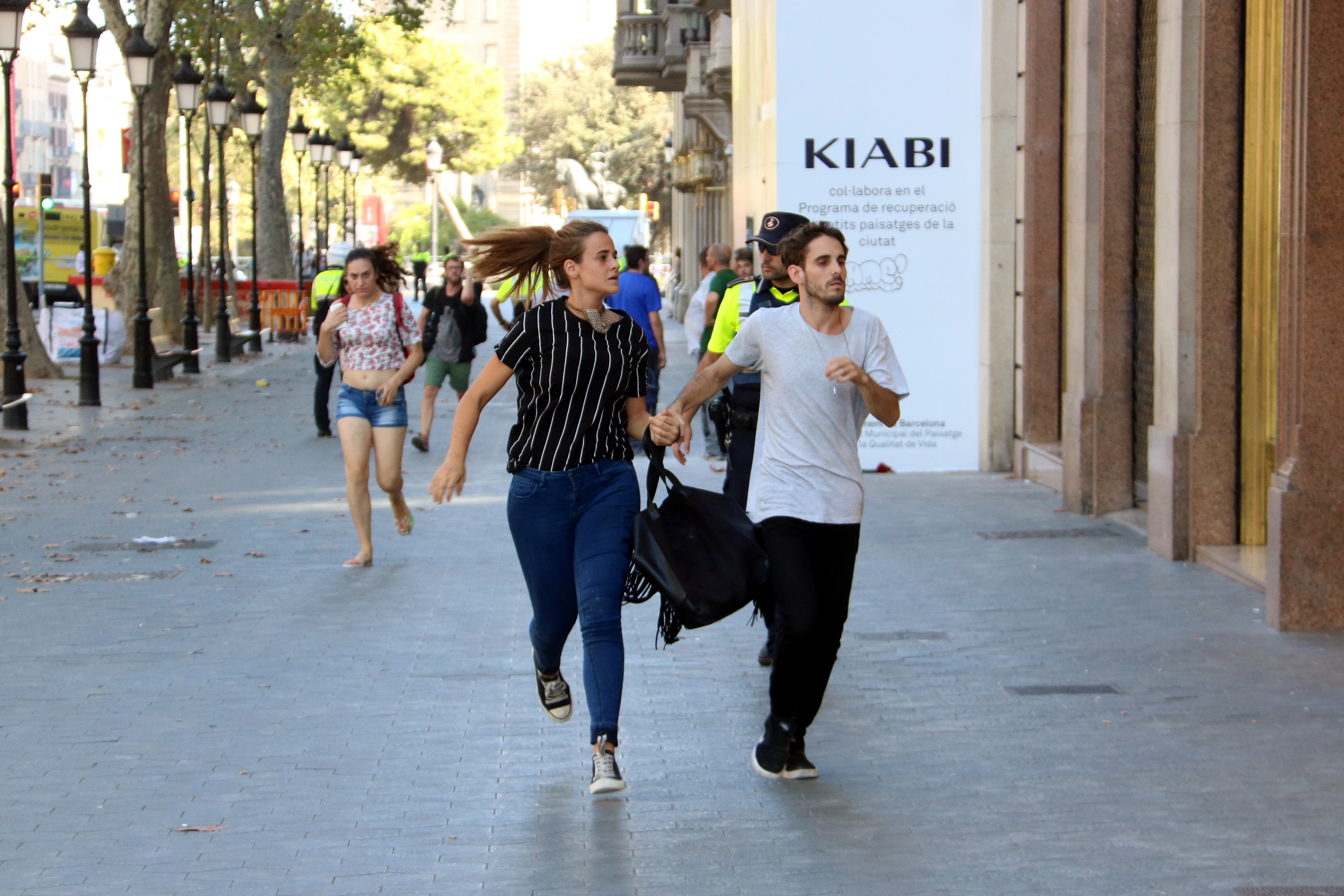 At least 13 people died and more 100 were injured, 15 critically, after a van crashed into the crowds in la Rambla, in the city center of Barcelona, in what police described as a terrorist attack. Catalonia has declared three days of mourning. A one-minute of silence to remember all the victims will be held in the Plaça de Catalunya, near la Rambla, on Friday.
What happened?
The attack, in a very tourist area in the heart of Barcelona, happened at around 5 pm. A vehicle, a white Fiat van, drove at a high speed along the Rambla pedestrian area, which is usually very crowded. The van plowed through crowds and caused scenes of chaos and panic. People fled the scene for cover and many seek protection in the nearby shops.
A second van linked to the attack was later found in the town of Vic, in central Catalonia. The vehicle may had been used by some of the terrorists to flee the scene of the attack.
Authorities recommended people in the city of Barcelona to stay indoors and avoid all displacements that were not strictly necessary. Public transport was disrupted for security reasons.
Who claimed the attack?
The terrorist group Islamic State claimed responsibility for the attack, as reported by its news agency, Amaq. "The perpetrators of the Barcelona attack are soldiers of the Islamic State and carried out the operation in response to calls for targeting coalition states," said Amaq.
Isis terrorists have committed similar van attacks in several European cities in the last year, including Nice, London, Stockholm, Paris and Berlin.
Have the terrorists been arrested?
Catalan police have two people in custody, a man from Morocco and another one from Melilla. Neither of them is the driver of the van, who fled the scene on foot but is believed to be unarmed. He is still at large.
Police sources confirmed to Catalan News that one of the men arrested is Driss Oukabir, who handed himself into police on Thursday evening after seeing his picture released on TV. He said to the agents that this younger brother, Moussa, stole his identification documents. Oukabir added that he played no part in the attack in Barcelona and that he was actually in his local town of Ripoll, northern Catalonia, when the incident happened.
Was there also an explosion?
One of the two suspects was arrested in Alcanar, a small town in the south of Catalonia where earlier on Thursday there were two explosions that police now link to the Barcelona attack.
One person died and several were injured in what was initially considered to be a gas blast. Amongst the injured, there were several firefighters and police officers that were at the scene of the first explosion when the second blast happened.
"Some elements of the investigation, which we cannot disclose, suggest a clear and with few doubts link between the two incidents," said the head of the Catalan police, Josep Lluís Trapero, in a press conference.
Was there a shooting in Barcelona?
Catalan police denied reports of a man holding hostages in the center of Barcelona. "There is no one entrenched itself in any bar", the Mossos d'Esquadra, tweeted.
However, agents confirmed that they took down a man that tried to flee a police control while leaving Barcelona. The man was shot by an agent after he run over another police officer with this car. The agent is in hospital and the man died. Police authorities later informed that the man, of Spanish nationality, was not linked to the attacks.
What did authorities say after the attack?
The Catalan president, Carles Puigdemont, said that "democracy will overthrow terrorism and brutality" after a terrorist attack hit Barcelona. In an institutional message at the Catalan government's headquarters after heading an emergency cabinet meeting, Puigdemont said that "all institutions and citizens will defeat those who try to confront civilizations."
"We are troubled, as Europe and the world", stated Puigdemont. "All decent people from all civilizations, religions and social condition are with the victims and with us," he added. The Catalan president also highlighted that "all institutions and citizens together will defeat, for sure, those who try to confront civilizations using violence." According to him, Catalonia has been for centuries "welcoming people" and is and will be "a peaceful land".
In the same appearance before the media, Barcelona's Mayor Ada Colau announced a minute of silence for Friday at noon in Plaça Catalunya, few meters away from La Rambla, the promenade where the attack took place. With a shaky voice, she called all institutions and citizens to take part, and she also asked city councils around Catalonia to follow with more minutes of silence.
The Catalan capital's mayor also said that the "cowards" who "have tried to spread fear will not get what they want". "Barcelona has always been and is now a city of peace, dialogue, democracy, and it is a brave, open to the world city", said Colau. "It is a city proud of its diversity and is cosmopolitan, and it will continue being like this", she added.
Puigdemont and Colau thanked all local, Catalan, Spanish and European emergency services for their "prompt reply" to the attack, as well as citizens. According to the Catalan government's head, some Barcelona residents have given shelter to everyone who needed it in the past hours, while hospitals are being "flooded" by people "giving blood".
The Spanish president, Mariano Rajoy, said in a press conference that the fight against terrorism is the "main priority for free and open societies." "It is a global threat and the response has to be global," he added.
What do witness say?
La Rambla, in the heart of Barcelona, was full of people at 5 pm, when the attack happened. "It was a complete chaos," said French tourist Nowedine Moussaoui, who witnessed the terrorist attack in La Rambla. He was shopping with his children when he saw the vehicle of the attack. "I saw a big car, the color was white, and the driver then accelerated and drived over people. And afterwards I wanted to go and help people, but I couldn't… Because it's a surprise, you know? You don't think of anything. You want to help people, but you can't," he said.
Another tourist, Dole Allman, from the United Kingdom, witnessed the attack from a rooftop in a hotel next to La Rambla. "I heard someone screaming, and then it was an absolute pandemonium everywhere," he said. Allman recalled seeing police officers carrying children in the midst of an absolute chaos. "We also saw someone who got shocked by the post shop," he said.
Tourists from places from all over the world are feared to be amongst the victims.