Puigdemont calls for meeting with Madrid "with no conditions"
"It's time for politics, and politics cannot be done without dialogue," says the Catalan president from Brussels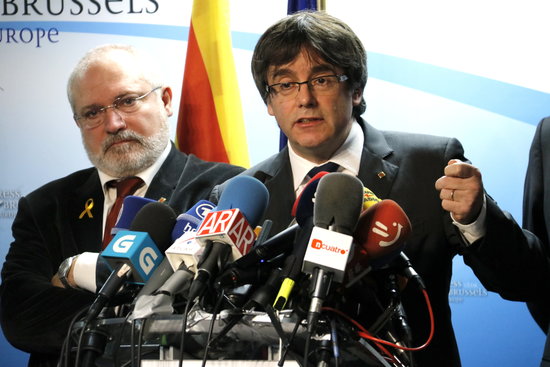 The Catalan president, Carles Puigdemont, is determined to take office again after his successful run in the election on Thursday. He made it clear in a press conference this Friday at noon from Brussels. Indeed, he called for a meeting with the Spanish government "with no conditions" to take place anywhere in Europe. With this meeting, he wants to tackle "a new political era," he claimed. He also referred to the position of the European institutions. "I am not asking the European Commission to change its mind, but at least to listen to us," was the message he sent to the authority presided by Jean Claude Juncker.
Puigdemont's successful run
Puigdemont's candidacy, Together for Catalonia, got 34 seats in the election, becoming the first pro-independence party in the chamber, with two more representatives than its main political ally, Esquerra Republicana. Both candidacies, along with the far-left CUP add up to 70 seats, with the majority at 68. The pro-independence parties will be able to continue governing the country - if they reach an agreement, that is, and measures against Catalan self-rule are lifted by Madrid. Meanwhile, the parties in favor of these measures failed to stop a new pro-independence majority.
"Vote for independence reaches a record level"
Puigdemont stated that the Spanish government hasn't yet recognized the outcome of the election and insisted on the fact that the number of votes for independence has reached a record level. Despite Spain's recent actions to stop the independence movement, he stressed that pro-independence parties are "stronger than ever".
The Catalan president, deposed by the Spanish government, reminded that number of votes for independence is growing in the "the permanent plebiscite on independence". "We broke the record achieved on October 1," he said.