Puigdemont and Ai Weiwei condemn EU's 'double standards' on Catalonia
In a debate in Brussels, former president calls Spain's attitude "authoritarian," while Chinese dissident calls for human rights to be "defended"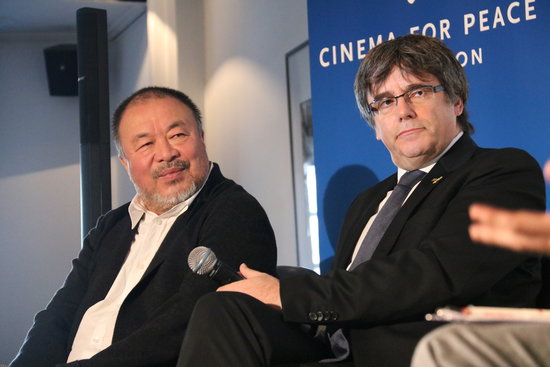 Former president Carles Puigdemont and dissident Chinese artist Ai Weiwei have condemned Europe's double standards in its response to the situation in Catalonia.
In a public debate between the two men in Brussels on Wednesday, Weiwei admitted he was "surprised" by Europe's reaction and attitude to the political crisis.
"There can be no double standards when dealing with human rights," said the Chinese dissident during his conversation with Puigdemont at the Cinema for Peace Foundation.
For his part, the former president warned that resorting to double standards is "one of the dangers facing European democracy," calling it a "real risk."
The two men shared personal experiences and agreed that freedom in the European Union should not be taken for granted.
"We wrongly assume that Europe guarantees certain values, but that is not the case, they need to be defended," Weiwei added.
Puigdemont: "Spain's attitude is clearly authoritarian"
"The attitude of Spain towards the Catalan crisis is clearly authoritarian," Puigdemont said, who wondered: "Is it not authoritarian to put political dissidents in pre-trial prison for more than a year for organizing a referendum?"
In answer to his own question, the leader of the Junts per Catalunya (JxCat) party said that "freedom is not guaranteed, you have to fight for it," although he also admitted he did not feel "comfortable" doing so in this context, but sees it as his "obligation."
To illustrate his accusation of double standards against the EU, Puigdemont referred to the sentence issued in Strasbourg on Tuesday condemning Turkey for unjustifiably keeping the former leader and MP of a pro-Kurd party in custody.
The JxCat leader also spoke of Spain's "problems." Specifically he referred to judge Marchena's withdrawal from his appointment as the head of the Spanish judiciary, and Spain's failure to implement Council of Europe recommendations to prevent corruption among judges and prosecutors. "There is a problem of the separation of powers in Spain," he said.
Asked by the moderator, 'Politico' journalist Ryan Heath, about the need to respect the rule of law -one of the most repeated responses from EU institutions- Puigdemont admitted that it was "the basis of the democratic system," but he also said that it must remembered that another basis of democracy is "the will of the people."
The former president went on to point out that the Spanish authorities "have had ample opportunity to show their proposal for resolving the Catalan crisis," but that "all we have seen is more repression and a negative attitude." He added that as long as there is no "Spanish president for Catalonia" then the only option is for it to "become an independent state."
Weiwei: "European citizens should be able to exercise their rights"
As for Weiwei, the dissident said he was neither for nor against Catalonia's independence, but that he is "in favor of European citizens being able to exercise their rights." He also said that he found what he saw during the October 1 referendum, with Spanish police cracking down on voters, "quite shocking."
In answer to a question by Txell Bonet, the partner of jailed pro-independence leader Jordi Cuixart, Weiwei said that "even if only a few people defend essential rights, what they defend can benefit everyone," and he thanked Bonet for "what you are doing."
Puigdemont also thanked Bonet, along with rapper Valtònyc, who was also present, and who is in Brussels seeking refuge after a Spanish court sentenced him to prison for his lyrics. Weiwei told Valtònyc that Chinese rappers would find themselves in the same situation.
Puigdemont and Ai Weiwei first met in Berlin when the JxCat leader was waiting to hear whether he would be extradited to Spain. The event in Brussels was organized by the Cinema for Peace Foundation, an NGO that aims to fight "injustice" through "promoting change through film." Wewei is one of the artists that the foundation has publicly supported.