Outrage in pro-referendum camp following arrest of nine activists for 'terrorism'
Far-left CUP and CDR group urge citizens to take to streets, while ERC and JxCAT urge Spain's government to give explanation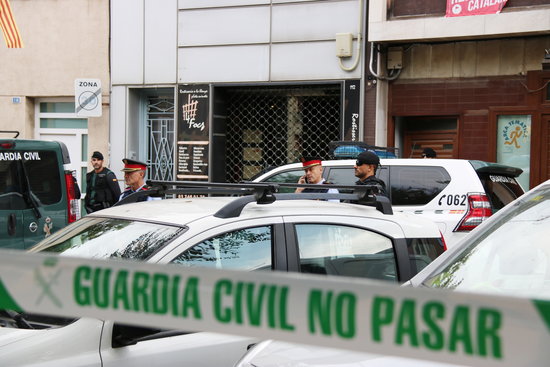 The arrest of nine pro-independence activists being accused of "terrorism" has sparked outrage among the parties in favor of a self-determination referendum.
The Catalan president, Quim Torra, was among the first officials to react on Twitter. "Repression continues to be the only response from Spain. They are trying to construct a violent narrative again in the run-up to the verdict [of the jailed leaders' trial]. They won't succeed. The independence movement is and will always be peaceful," he wrote.
The mainstream pro-independence political forces with MPs in Madrid congress, ERC and Junts per Catalunya (JxCat) urged Spain's home affairs ministry to give an explanation before the lower chamber.
"Firstly arrest, then investigate?"
For JxCat's spokesperson, Laura Borràs, this is an "opaque and criminalizing operation against the independence movement."
"They firstly arrest, and then investigate? We want an explanation," she added on Twitter.
"In democracy it works the other way round"
"[We] live in a country where people are arrested in the early hours in order to look for evidence against them. I mention this because in democracy it works the other way round," said ERC's leader in Madrid, Gabriel Rufián
According to Rufián, some media outlets are trying to make the public think that "those with weapons are voters and not those who sell them to Saudi satraps."
"Criminalization of protest"
Far-left CUP party and CDR group have asked citizens to join protests to condemn the arrests.
CUP former MP Eulàlia Reguant said that it is no coincidence that the operation comes just a few days before a potential guilty verdict to the jailed pro-independence leaders is out, which might prompt large-scale protests.
"They look to terrify people and make people stay at home due to the criminalization of protest."
"Fundamental rights at stake"
CDR local groups already called rallies on Monday arguing that Catalan citizens' "fundamental rights are at stake."
Meanwhile, the Catalunya en Comú party, in favor of a referendum but not explicitly of independence, also rejected the operation.
"Banalizing terrorism"
Their MP in Madrid Jaume Asens said that Spain's police are "banalizing terrorism."
He added that these kind of moves create "tension and social alarm for no reason."
"We are concerned because we know how these operations with big publicity and social alarm usually end up: they fizzle out."
Asens reminded the cases of two other activists accused of terrorism in 2018 – one of them, Adrià Carrasco, went into exile, and the other one, Tamara Carrasco, was held in her town before the charges were dropped for both.