Danish MPs to look into joining international observers of independence trial
"If Catalan society calls on us, we will be there," say parliamentarians from Denmark visiting jailed political leaders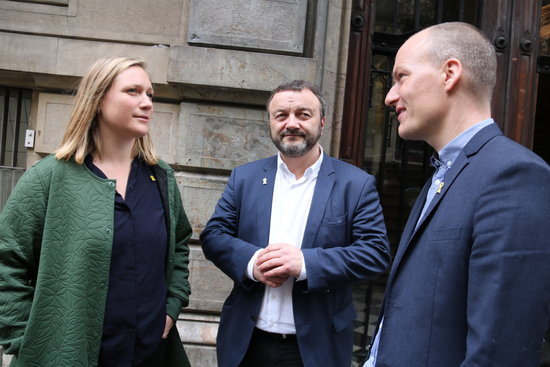 A group of Danish MPs are looking into the possibility of joining MEPs who recently announced they would apply to act as international observers in the legal proceedings against Catalan leaders involved in last year's independence bid.
"If Catalan society calls on us, we will be there," said Pelle Dragsted, member of the Red–Green Alliance and the party's democratic affairs spokesman.
Along with colleagues Eva Flyvholm and Magni Arge, Dragsted on Friday met with the vice president of the Òmnium Cultural organization, Marcel Mauri, who thanked the MPs for focusing international attention on the situation of the jailed political leaders.
All three Danish MPs were due to visit the head of Òmnium, Jordi Cuixart, and former foreign minister, Raül Romeva, in the Lledoners prison on Friday afternoon, after visiting former Catalan Parliament speaker, Carme Forcadell, on Thursday.
"We feel a strong obligation to show that this should not happen in Europe," said Dragsted, who also said it is "very important" that when the independence trial begins that international lawyers and experts in politics and human rights be present.
Prison visit a "shocking experience," says Danish MP
Meanwhile, Magni Arge said that visiting the former parliament speaker had been a "shocking experience" and he insisted that in Denmark political differences would not be settled in criminal court. He also said his aim was to help ensure that "at the very least" the jailed Catalan leaders get "a fair trial."
As for Eva Flyvholm, she said she was "very concerned" about the situation of the jailed leaders and hoped that the visit of the Danish MPs puts "more pressure" on the Spanish authorities. She also said it was "very important" to start a debate on what is happening in Catalonia to pressure Spain into releasing the prisoners.
As with Arge, Flyholm said she was also "moved" by her meeting with Forcadell in the Mas d'Enric prison on Thursday. "It is very worrying to see that she is in prison simply for doing her job as the parliament speaker," she added.
Europe must not "turn its back" on trial, says Òmnium VP
Referring to the trial of the imprisoned leaders, the Òmnium vice president explained that his organization would work to ensure that Europe "does not turn its back" when the legal proceedings take place.
"One of Òmnium's most important missions will be to condemn what is happening and to do so all over Europe," said Mauri, who predicted that the case in the Supreme Court will "put democracy on trial."
According to Mauri, Òmnium is currently talking to international media and holding meetings with parliamentarians abroad and other organizations similar to the one headed by Cuixart "to forge the maximum number of alliances possible."
"Each time we explain the situation, the people listening are shocked, which makes these meetings extremely important to continue focusing international attention on this cause," said Mauri, who also expressed his thanks for the "solidarity" shown by the Danish MPs.