Catalonia 2019-2020: a new clash with Spain for independence?
Country holds its breath ahead of verdict on jailed leaders, which could lead to a rise in tensions with Madrid, snap elections and fresh attempts to extradite Puigdemont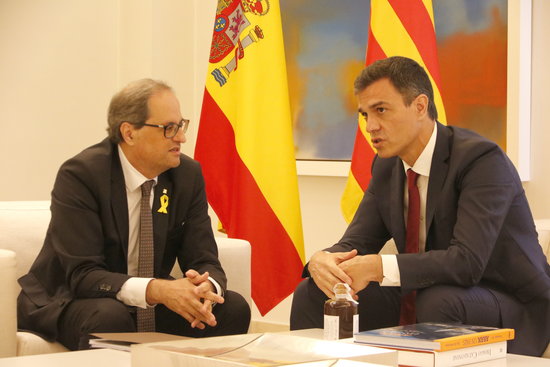 Catalonia's political year kicks off the same way the last one ended: with the country nervously awaiting the verdict of the trial of 12 prosecuted political and civic leaders who had a key role in the 2017 independence push.
The Supreme Court is expected to come to a crucial decision this autumn, and this could lead to another clash between the Catalan and Spanish administrations. Quim Torra, head of the government in Barcelona, has already indicated that this will be the case, although he might face internal dispute.
Let's have a look at the six key topics of Catalan politics for the 2019-2020 season:
1. Catalan trial verdict looming
Four long months of Catalan trial including 52 sessions earlier this year will finally come to a conclusion in late September or early October – unless a snap Spanish election in November postpones it.
The judges must decide whether they accept the rebellion charges and sentences of up to 25 years in jail for each of the nine leaders in precautionary detention. Three more who are currently on bail could also be sent to prison.
2. Response to the Supreme Court's decision
A Constitutional Court ruling that hampered a Catalan bid to enhance self-rule in 2010 led to the beginning of the political road to independence, which has lasted for the whole decade.
Thus the response to this trial verdict may well be forceful. Parties in favor of a referendum are seeking a joint response beyond inevitable demonstrations.
New attempts for self-determination with Madrid's backing, a fresh clash with Spain's government, general strikes, the organization of another referendum and a new Catalan election are among likely future scenarios.
3. Fresh 'confrontation' with Spain
Out of these, President Torra seems to be opting for a new clash with Madrid like that of 2017 that led to the imprisonments.
While he will put his intentions on the table for this year in a conference in Madrid on September 5, he already said in August that the best would be to face a "democratic, peaceful confrontation" with Spain. For him, it is naïve to believe that talks with any Spanish government will result in an independence referendum.
Yet his party, Junts per Catalunya, might face the opposition of Esquerra, the other party in the Catalan cabinet. Esquerra still prioritizes negotiations, and if the disagreement continues and no joint response to the verdict is found, the country might face a snap election.
At the same time, President Torra might be barred from post in the coming months due to a controversy over the signs in favor of the jailed leaders he did not remove on time during the electoral campaign.
4. Blocking Spain's politics?
Catalonia is not the only one that might face an early election: if the Spanish Socialists cannot gather enough support for Pedro Sánchez's presidential bid by September 23, citizens will have to cast their votes again on November 10.
Left-wing Podemos party, and its Catalan ally En Comú Podem, are an essential part of this support, as well as at least one pro-independence party: Esquerra or Junts per Catalunya.
The Catalan crisis has been one of the contentious issues between the Socialists and Podemos, and the pro-independence forces aren't likely to support Sánchez immediately after a potential guilty verdict in the Supreme Court is out.
A wanted or unwanted block on Spanish politics could be the eventual outcome.
5. Fight for the narrative abroad continues
In the past few years, Catalonia and Spain have also clashed over the moves of the former to expand its foreign actions – the latter claims these efforts aim to spread the independence message.
Spain's foreign ministry has taken three Catalan offices abroad to court – a final decision on the case might be taken during this year. Related to this, alleged spying of such offices will also be dealt with by courts.
Former president Carles Puigdemont and the other exiled officials could also play a relevant role this season, as some commentators expect a third attempt by Spain to extradite them through European arrest warrants once the verdict of their jailed former cabinet colleagues is out.
Puigdemont, also exiled Toni Comín and jailed Oriol Junqueras will also hold another battle, one to be accepted as MEPs. Spain rejected all three after the European election, and their cases are now up to the EU courts.
Europe's Court of Justice will hold a hearing on October 14 over Junqueras' calls to be granted parliamentary immunity after having been elected in the May 26 poll.
6. 2017 budget extended… one more year?
Meanwhile, Quim Torra's cabinet is working on the 2020 budget – but it will be no easy task to pass it in parliament.
The 2017 spending plan was extended to 2018 due to direct rule from Madrid, and to 2019 due to lack of consensus in the chamber.
If the 2020 one also fails, the economy minister has already said no alternative will be left but for a new election.
So far, opposition across the political spectrum has criticized "inaction" by the executive during the political term and some of them say ministers should be more concerned about social affairs and not the national issue. The economy department will have an arduous task this autumn if it wants to convince at least one opposition party.
The consequences of a potential no-deal Brexit and some recession concerns might also create extra pressure this political season.