Belgium rejects extraditing Catalan leaders
Judge dismisses European Arrest Warrant issued by Spain over form irregularities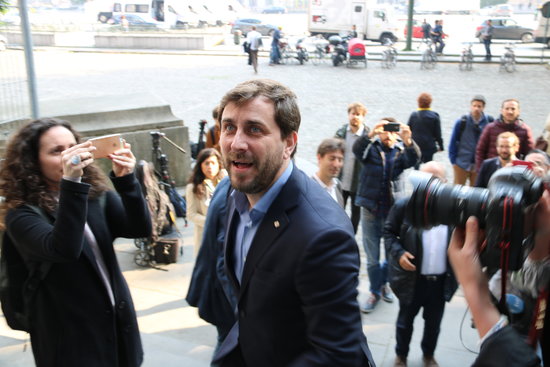 Belgium rejected extraditing three deposed Catalan ministers wanted by Spain. A Belgian judge dismissed on Tuesday the European Arrest Warrant issued by Spain for Lluís Puig, Toni Comín and Meritxell Serret. In a hearing in Brussels, the prosecutor and the defense agreed that the extradition request had "procedural defects" and "irregularities", and was therefore rejected.
The reason is that there was no arrest warrant in Spain issued for them, something mandatory for an EU arrest warrant to be taken into consideration.
The Belgian prosecution explained that both the defense and the prosecutor's office itself can appeal the decision, although neither will do so. The prosecutor also made it clear that its Spanish counterpart cannot appeal.
"We demand the end of judicialization of politics and the release of all our colleagues," said Meritxell Serret immediately after learning of the court's decision.
"We are truly satisfied," said Toni Comín. "This decision, by a court, shows that Spain is abusing the criminal code to persecute democratically elected politicians," he added. The deposed Health minister, who is currently an MP, said that "it is time to end this abuse" and start doing politics.
"Let's go back to dialogue, let's prioritize negotiation and agreements to solve a political problem," added Meritxell Serret talking to the press. The deposed Culture minister, Lluís Puig, said that the Belgian justice decision could have a "multiplying" effect for the cases affecting Carles Puigdemont in Germany and Clara Ponsatí in Scotland.